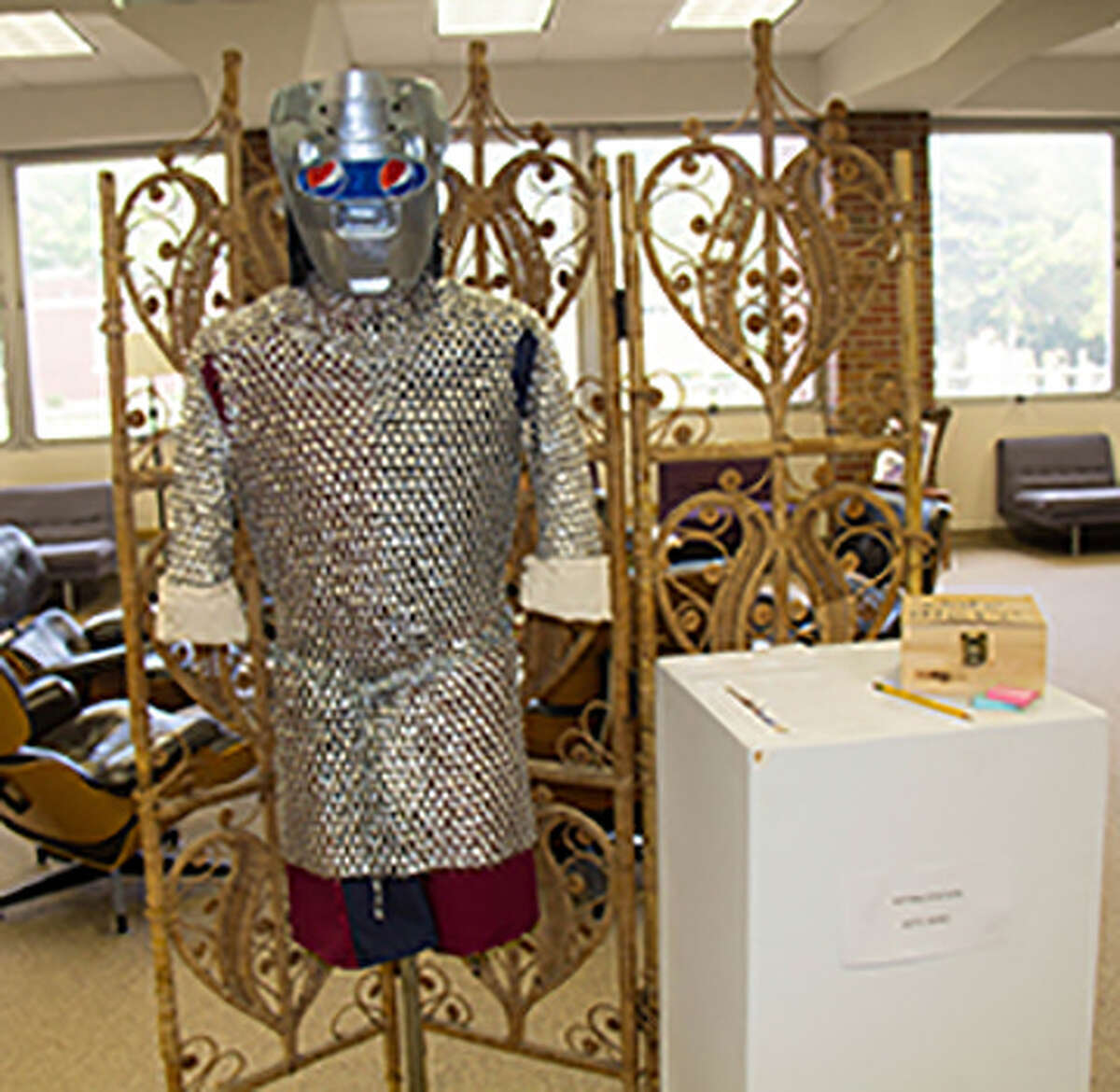 Submitted to the Herald Review
ALMA — Anissa Keeler, of Marion, created a piece that was one of 15 art projects, each focused on the theme "recycled," scattered throughout the campus as part of the 2017 Alma College Student Art Prize competition.
Students, parents, staff, faculty and community members were welcome to vote on the submissions through early October.
"This year's theme resonated with the students," said Jillian Dickson, the competition's faculty advisor. "Recycling and the idea of bettering the Earth for future generations are important to these students."
The student artists integrated the theme into both the projects' materials and concepts. For example, the collection of works housed in the half circle arch outside of the Alma College Library is actually re-creations of famous works, such as the Mona Lisa, but crafted from recycled materials.
Another creative piece found inside the library, titled AlumiKnight, uses 3,000-plus soda can tabs intricately and meticulously weaved together into a tapestry of armor.
The annual campus art competition is open to students from all majors.
"Next year I would really like to see submissions in the form of dance, theatre, film and written works," Dickson said. "I want to see the Alma College Student Art Prize become a truly interdisciplinary competition."
Project names, locations and creators are as follows:
• "Living Lights" in McIntyre Mall by Anissa Keeler and Logan Rettell
• "Recycled Eras" in the half circle outside of the library by Zachary Meyer, Marina Stack, Anissa Keeler and Calum Clow
• "The Mystic Study" outside of Gelston Hall by Elly Jauquet, Alyse Townsend and Sarah Manwaring
• "Looking Forward" in the Eddy Music Building by Alexa Piotrowski
• "Trashin' Fashion" in the Heritage Center by Jessica Morr
• "Slain the King and the Subject" in McIntyre Mall by Sarah Garrod
• "Puppet Master" in the Hamilton Commons lobby by Spencer Wehner, Paige Shaw and Ivy VanPoppelen
• "Landscape" in the Clack stairwell by Jessica Mayne
• "Shatter Me" in McIntyre Mall by Anissa Keeler
• "AlumiKnight" on the first floor of the library by Logan Rettell
• "Glass Waters" in the Clack lobby by Allison Henry
• "Global Unity" in the Tyler-VanDusen hallway leading to Joe's Place by Whitney Miller
• "The Cost of Your Closet" in the Tyler-VanDusen hallway leading to Joe's Place/conference room across from ACUB Lounge by Spencer Wehner
• "Super Plaid Brothers" in the Tyler-Van Dusen hallway leading to Joe's Place by Shayla Crawford
• "Elemental Fantasy" in the Clack lobby by Mikahla Koehler.