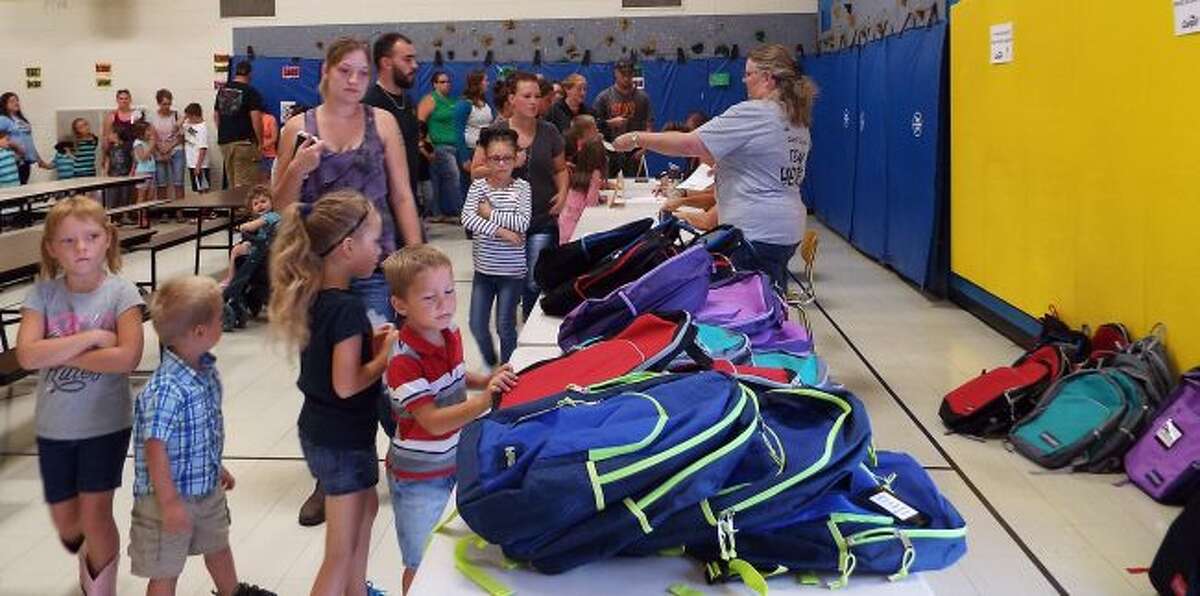 BIG RAPIDS — Summer is in full swing and while schoolchildren may not be thinking about paper and pencils, the local Salvation Army office is.
The Tools for Schools program aims to collect donations of school supplies to distribute to elementary students throughout Mecosta and Osceola counties this fall to help families. The drive will collect all kinds of school supplies, including pencils, erasers, markers, crayons, loose-leaf paper, pocket folders, notebooks, rulers, pens, Kleenex, glue sticks and youth-sized backpacks.
The first donation drop-off will take place from 10 a.m. to 2 p.m. on Saturday, July 15, with subsequent drop-offs at the same time on July 22 and 29. All donations can be brought to the school bus parked near the Perry Avenue entrance to Walmart in Big Rapids.
"Our goal is to serve every school we can," said Chris Vallette, Salvation Army development director.
Tools for Schools began last year, when a grant from Cargill Cares, the community involvement team at Cargill Salt, provided a grant which the Salvation Army used to purchase 260 backpacks full of school supplies. Those backpacks were distributed at Evart Elementary's back-to-school night.
This year the program is expanding to include districts throughout Mecosta and Osceola counties, including Chippewa Hills, Big Rapids, Crossroads Charter Academy, Morley Stanwood, Evart, Marion, Reed City and Pine River.
According to the Mecosta-Osceola Intermediate School District, there are approximately 3,200 students in kindergarten through fifth grade in the two counties, Vallette said. When he called the districts, he discovered on average about 70 percent of students qualify for free or reduced lunch.
"This data indicates there are many families that could use help with back-to-school purchases," he said. "When I called all the schools, I had two or three districts that while we were in conversation said something like, 'Wow, this is great because our teachers buy their own stuff.'"
Teachers either spend their own money or turn to crowdfunding sites such as GoFundMe to purchase supplies for students to use in the classroom, Vallette noted.
"When we learned local teachers had to raise extra funds, or in some cases spend their own personal money to make sure students were properly equipped for classwork, we started looking for ways to help," he said, explaining the beginning of the Tools for Schools program.
Expanding from one elementary school to schools in eight districts across two counties was "a pretty big jump," Vallette said, but organizers saw a need throughout the area.
"We thought about adding just a few schools this year, but we know the need is everywhere and could not justify leaving a school out," he said. "With so many students in need, we really hope the community will step up and fill the school bus we will have at Walmart. The more we collect, the more students we can serve."
Organizers don't expect to receive donations equal to the number of elementary students, Vallette noted, explaining they will take the donated supplies and divide them among the school districts proportionately by size.
The Big Rapids Salvation Army office covers Mecosta, Osceola, Lake and Newaygo counties, but right now Tools for Schools will only be available in Mecosta and Osceola counties.
"We want to try to be at every school, but we may not have hundreds of backpacks at every distribution," he said. "Our goal is to work in Mecosta and Osceola counties for a couple of years and work out the kinks so we can build the program over the years."