This is a carousel. Use Next and Previous buttons to navigate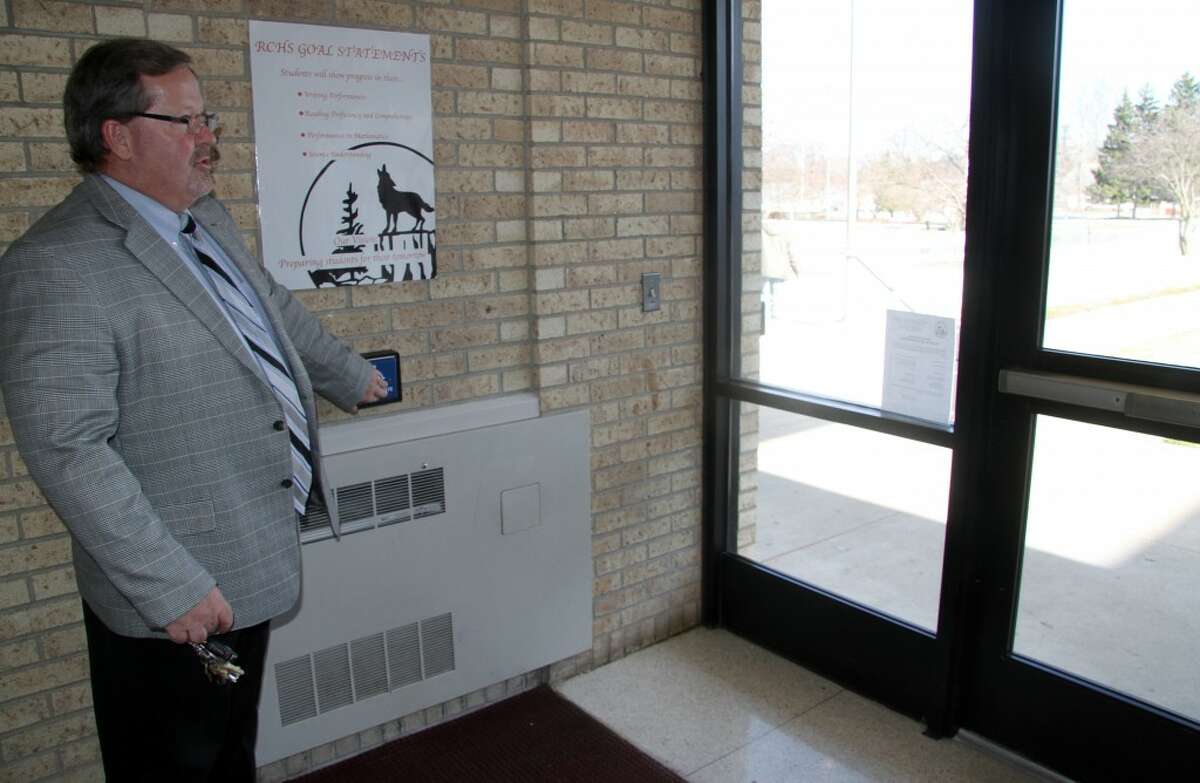 New lifts, door actuators cost district almost $79,000

REED CITY – Two lifts, six door actuators and almost $79,000 later, Reed City High School freshman Bethany Maciejewski can move from one level of the high school gym to the other and more easily access other parts of the school as well. "This was so my daughter could have access to the rest of the student body," said Andresa Maciejewski, who brought her daughter's accessibility issues to the board of education in August. "I had to step up to the plate and go to bat for my daughter. Really it's not just about my daughter; it's for every student with a disability. It's sad that somebody has to go and fight like that." The main concern for Bethany, who uses a walker, was that she and other students with physical disabilities would be unable to sit with friends in the lower level of the gym during pep assemblies or sporting events. The main entrance to Reed City High School connects with the upper level of the gymnasium. Before a lift was installed in the gym, the only way for someone using a wheelchair or walker to access the lower level was to go outside the school and follow a driveway around to an entrance that opened onto the main gym floor. "(The renovations) were a direct result of (the Maciejewski family's) request and the legal requirements that exist to provide access for students to educational areas," said Superintendent Steve Westhoff. "We want everyone to go through a normal school day like any other student." Under the federal Americans with Disabilities Act, new or renovated buildings must comply with certain handicap accessibility regulations. Structures built before 1992 – when ADA went into full effect – must make "reasonable accommodations" to provide accessibility, unless a person's rights are violated, in which case modification is required. As Andresa pointed out at the August board meeting, Bethany's rights were being violated because of her limited access to the gym. "It's only fair that she gets to go down there instead of sit in the upper level and watch everybody else," Andresa said. Bethany and another student, who is a junior, will use the lifts on a regular basis. Visitors and other students who are temporarily immobilized from injuries also would benefit from the school's increased accessibility. Installation of the lift in the gym, which cost $40,000; a portable lift in the cafeteria, which cost $14,000; a metal gate needed to secure an entrance, which cost $6,000; and six door actuators, which cost a total of $18,900 for equipment and electrical work, began on Sept. 26. The equipment was in place by Nov. 5 with approval for operation by Nov. 12. The school still is working on some final wiring issues. "Bethany likes (the lift). She tells me it's going to work great," Andresa said. The lift in the gymnasium operates like an elevator within a two-story brick column, with room for one person in a wheelchair or a walker and a person standing inside. The portable lift allows people with physical disabilities to go on stage in the cafeteria; it also could be used outside or in other locations as needed. The door actuators are buttons that automatically open a door when pressed. Installing an actuator on one set of doors connecting the main lobby of the high school with another area that eventually leads to the gym required the installation of a metal gate, too. The set of doors acts as a firewall and security feature that would allow one part of the school to be locked off from the rest in case of emergency. With the door actuator, the doors cannot all be locked, so the gate was needed to provide additional security. "We wanted to provide access for students who are now in our building," Westhoff said. "Without these items, it would be extremely difficult for them to move around without help and access the building." Throughout her time at Reed City Area Public Schools, Bethany and her family have worked with school staff to make sure door actuators and handicap-accessible restrooms were available. G.T. Norman Elementary School and Reed City Middle School are on one level, so there are fewer accessibility issues in those facilities. Simple tasks that most people take for granted – like opening a door – can provide a challenge for people with physical disabilities, Andresa said. "People say they understand, but they don't," she said. "No one understand but the parent of a child with a disability." RCAPS' budget for capital outlay projects was $200,000 for the 2012-13 school year. With the additional accessibility costs, the district has exceeded that and money will have to be shifted from another area in the general fund.