This is a carousel. Use Next and Previous buttons to navigate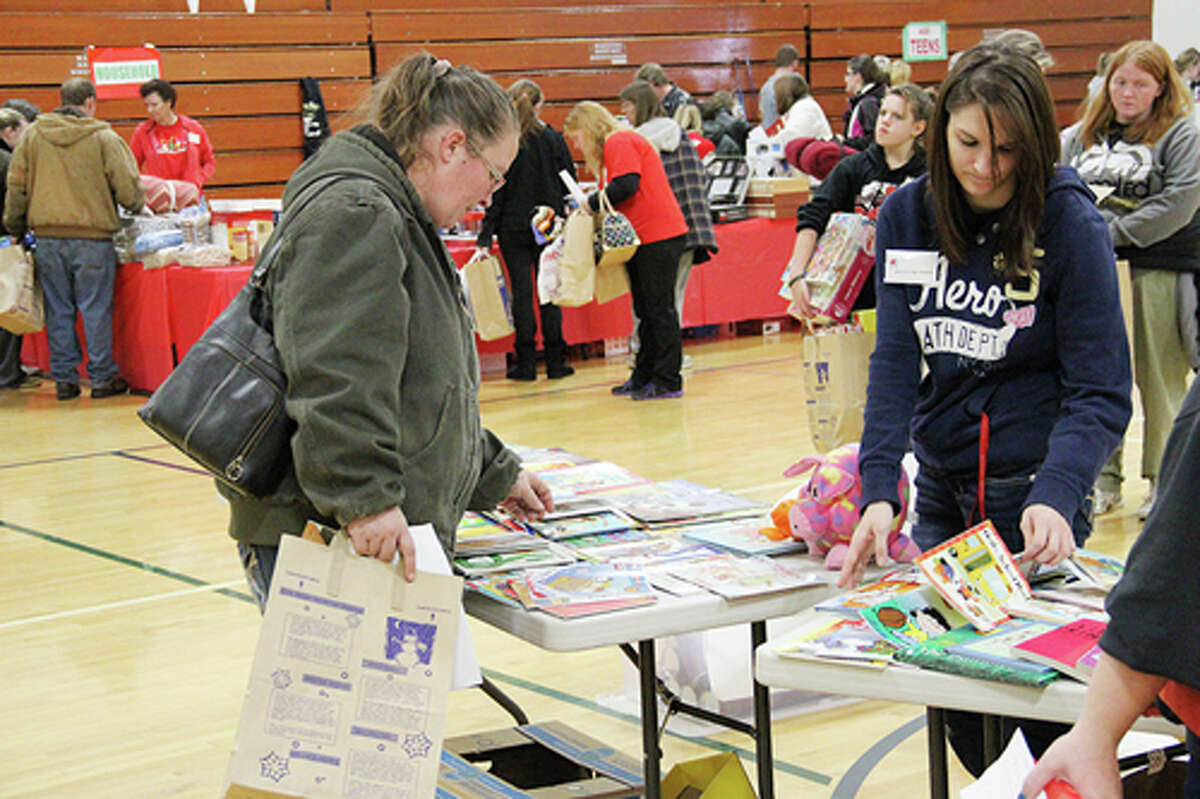 Gifts for Kids helps 291 low-income Osceola County families

EVART — As the added expenses of the Christmas season place a financial strain on low-income families, one Osceola County holiday program has been filling the gap for 32 years. Gifts for Kids provides Christmas presents to families who otherwise might not have many gifts under their tree for the holiday. On Saturday, presents were distributed to 291 families in need at Evart Middle School. "(Our mission) is to share God's blessings with those who are not as (fortunate), and show them that someone cares," said Gifts for Kids organizer Nancy Lentz, who serves as the community resource coordinator for the Department of Human Services. "Holidays are tough for a lot of people. Sometimes just knowing someone cares can make it better." Split into groups of 30 families each half hour, as individuals entered the school's gymnasium, they could select gifts from various tables with age-specific items. Each family also was given hats and mittens, a board game, household items such as toasters and coffee pots, a food basket and socks and undergarments for each member of the family. Each table was stocked by a local church, food pantry or organization that collected donations of cash or gifts and purchased items for the distribution. The Covenant Women of the LeRoy Covenant Church provided hats and mittens for the distribution. Many church and community members purchased hats or mittens for the group's outreach, while others made winter wear by hand. "There's a lady in Hersey - Dorothy Mathis - who makes a hat a day," said Carol Moyses, president of the Covenant Women. Each year, the group begins collecting items for the next year's outreach the day after the Gifts for Kids distribution. "We collect all year long. It all just seems to come together beautifully," Moyses said, noting the group collects more than 1,000 hats and mittens for the outreach. "The Lord always seems to provide more than we need." Though the name suggests the program is geared toward children, gifts for adults also are provided through the program. "Initially the focus was on gifts for kids - that's where the name came from," Lentz said. "Then we realized adults need help too." Along with providing gifts for adults and children, volunteers from the Reed City Church of the Nazarene were on hand to wrap the gifts. "That way they can put them right under their tree when they get home," Lentz said. With nearly 50 more families signed up than last year, and the absence of Toys for Tots — which provided a large portion of donated toys to Gift for Kids — Lentz was appreciative of the community's efforts to make the program a success. "Some places that historically had Toys for Tots boxes called and wanted to set up boxes for Gifts for Kids," she said. "That helped because it made Gifts for Kids more widely known." Longtime Gifts for Kids volunteer Gary Goodfellow said the program has expanded every year. He and his wife, Pat, represent the Sears food pantry, which sponsored the age group for children 3 years old and below. "It gets better organized every year," Goodfellow said. "It runs smoothly and it's a good thing for the community. (It's nice) making people happy."