This is a carousel. Use Next and Previous buttons to navigate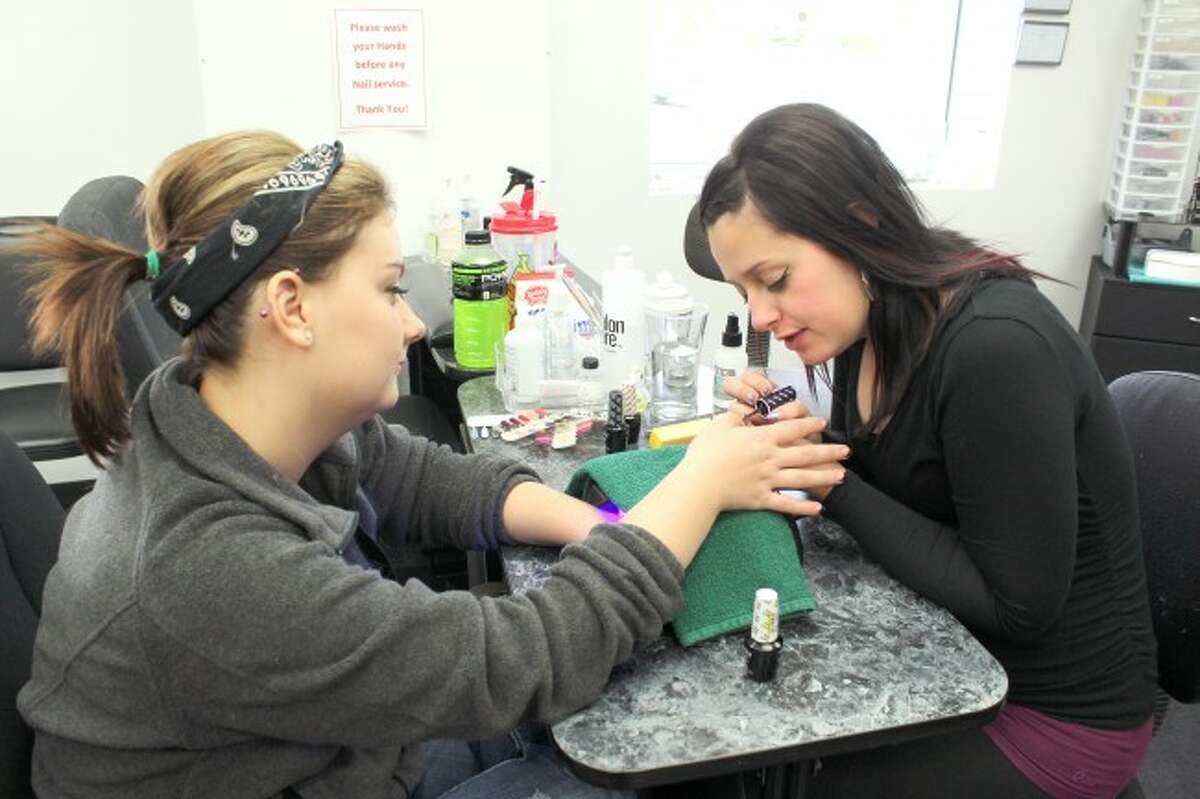 Nail art trend growing in Big Rapids area 

BIG RAPIDS — Simple and intricate works of art are popping up on fingertips as a fad becomes more and more visible to local beauty consumers. Nail art recently has come into the limelight as more and more cosmetic companies took notice. Even the most well-known drug store brands have made an attempt to catch the eyes of fashionistas by creating new glittered, textured and magnetic polish. Nail designs, whether perfected by free hand, stamp or sponge, are present and available in the Big Rapids area. Cosmetologist Alanna Kohn is an employee at Natural Beauty Salon and Day Spa in Big Rapids and enjoys when clients come into the business for a manicure and request nail art, which she can create with regular nail polish and shellac. For Kohn, trends have consisted of glitter or sparkle designs, black and white combinations, camouflage looks and French manicures using different colors for the tips. Bright colors are popular in the summer while darker colors are used more often in the fall and winter. "I see nail art being more for special occasions," Kohn added. "Holiday time is a great time for it. Halloween is big and so is Christmas." Kohn is inspired by Pinterest and Google which she uses to come up with additional ways to put a fun twist on a simple manicure. "It's amazing what you can do on a nail," Kohn said. "I like to do nail art because you can use your creativity and it makes the nails stand out." Nail art has become a large part of Head to Toe Salon and Spa in Reed City as well, according to stylist and nail tech, Amber Lintemuth. "We do a lot with glitter and different designs," Lintemuth said. "We have a few ladies that get nail art all of the time. They can't go without it." She said popular looks include polka dots, chevrons, stripes and putting a modern twist on classic designs like French manicures. Seasons and events typically cause nail art lovers to emerge. Holidays especially call for fun creations, and clients in the Christmas spirit ask for Christmas trees or Rudolph the red-nosed reindeer, Lintemuth said. The trend also spans all ages. "Once people start, it's really addictive," she added. "I like it because it gives a little something to the nail and it shows your personality." To schedule an appointment with Natural Beauty, call (231) 527-1214; for an appointment at Head to Toe Salon and Spa, call 231) 465-4000.