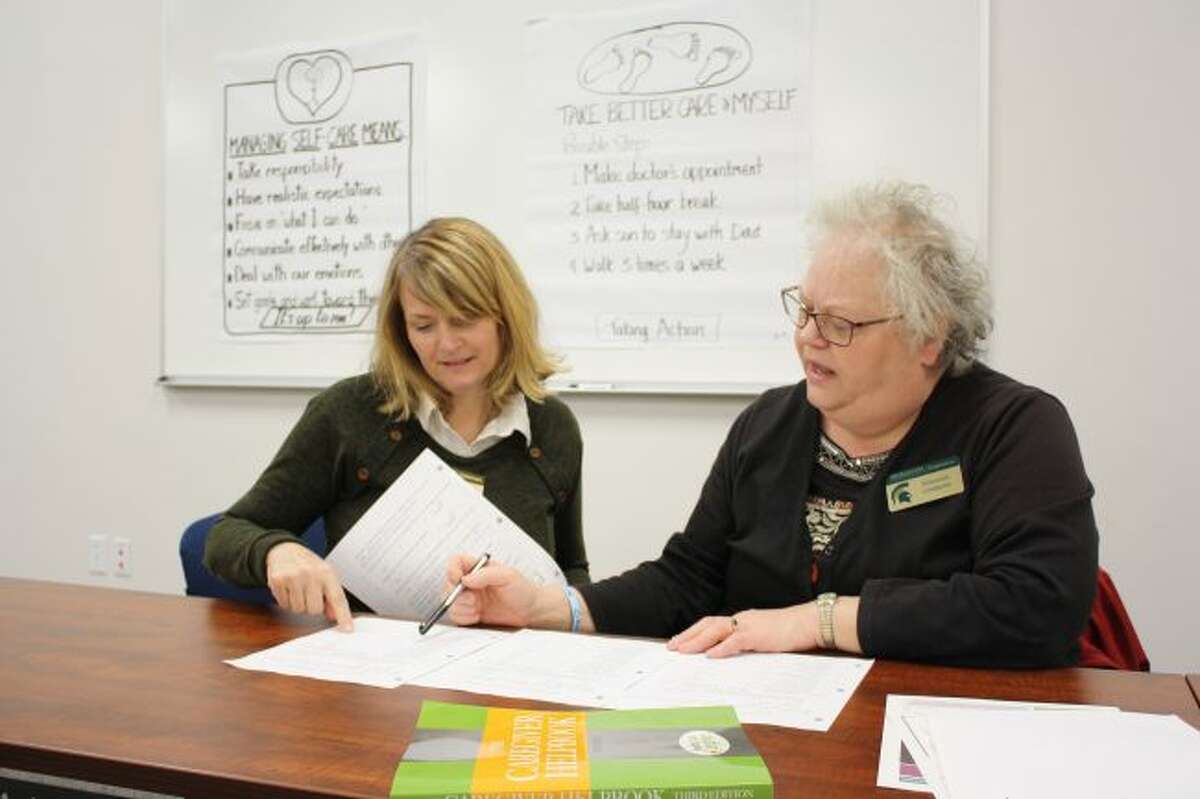 EVART — An upcoming workshop is designed to give caregivers the tools they need to deal with the stress and challenges of their role in order to better care for not only the person they're helping but themselves, as well.
The workshop, offered free of charge for six weeks by Michigan State University Extension, will cover reducing stress; effective communication; reducing guilt, anger and depression; problem-solving; and self-care, among other topics.
"Sometimes, caregivers' health declines faster than the recipient of their care," said Pamela Daniels, MSUE health and nutrition educator. "This workshop is based on a community health gap need that came to Extension."
Caregivers don't have to live with the individual or perform services full-time to be caregivers.
"A caregiver is anyone who provides care for another person in need, such as a child, an aging parent, a husband or wife, a relative, friend, or neighbor," states womenshealth.gov. The website also indicates most caregivers are women and three in five have paid jobs in addition to the services they provide.
Powerful Tools for Caregivers is a research-based program offered nationwide. The upcoming MSUE class will meet from 10:30 a.m. to 12:30 p.m. for six weeks on Friday at the Osceola Commission on Aging Building, 732 W. Seventh St., Evart. The group will meet on Jan. 26, Feb. 2, 9, 16, 23 and March 2.
To register for the workshop, interested participants should call Lisa Baker at (231) 592-0792. Pre-registration is mandatory for planning purposes, Daniels said. The sessions are open to anyone who is currently a caregiver or anticipates they may become a caregiver in the future.
"We do this in a group setting, and the people are fabulous," Daniels said. "They share amazing stories and relate with one another instantly."
Shannon Lindquist, MSUE social emotional health educator, who also leads the caregivers class, agreed. Lindquist and Daniels ran the first caregivers class in Cadillac recently.
"I've been doing group work for 30 years and I've never seen a group come together like the group in Cadillac," Lindquist said.
Sessions focus on providing caregivers strategies to make their lives easier, including ways to allow others to help.
"We talk a lot about giving people tools to ask for what they need," Daniels said. "We teach them how to ask for what they want."
"People who don't feel they can be the one-on-one caregiver can mow the lawn or pick up eggs and milk at the grocery store," added Lindquist.
Daniels also suggested people who aren't caregivers themselves but know someone who is may want to consider offering to stay with the care recipient to allow the caregiver to attend the workshops. She also suggested employers would benefit from allowing employees to take the time to attend the sessions without loss of pay because better managing the caregiving role would allow employees to be more productive at work.
Participants in the Cadillac class shared positive responses in the form of testimonials for MSUE.
"Before I started these classes, I felt like I was drowning. ... But these classes have been such a live-saver for me, to know that there are other people in such a similar situation and to have more realistic expectations on what I am able to do and take care of myself, too," wrote Tina Lemby.
Irene Kasbohm also had a positive experience.
"It gave me the tools and words to use to help myself feel better and help get others to understand what I'm going through," she wrote.