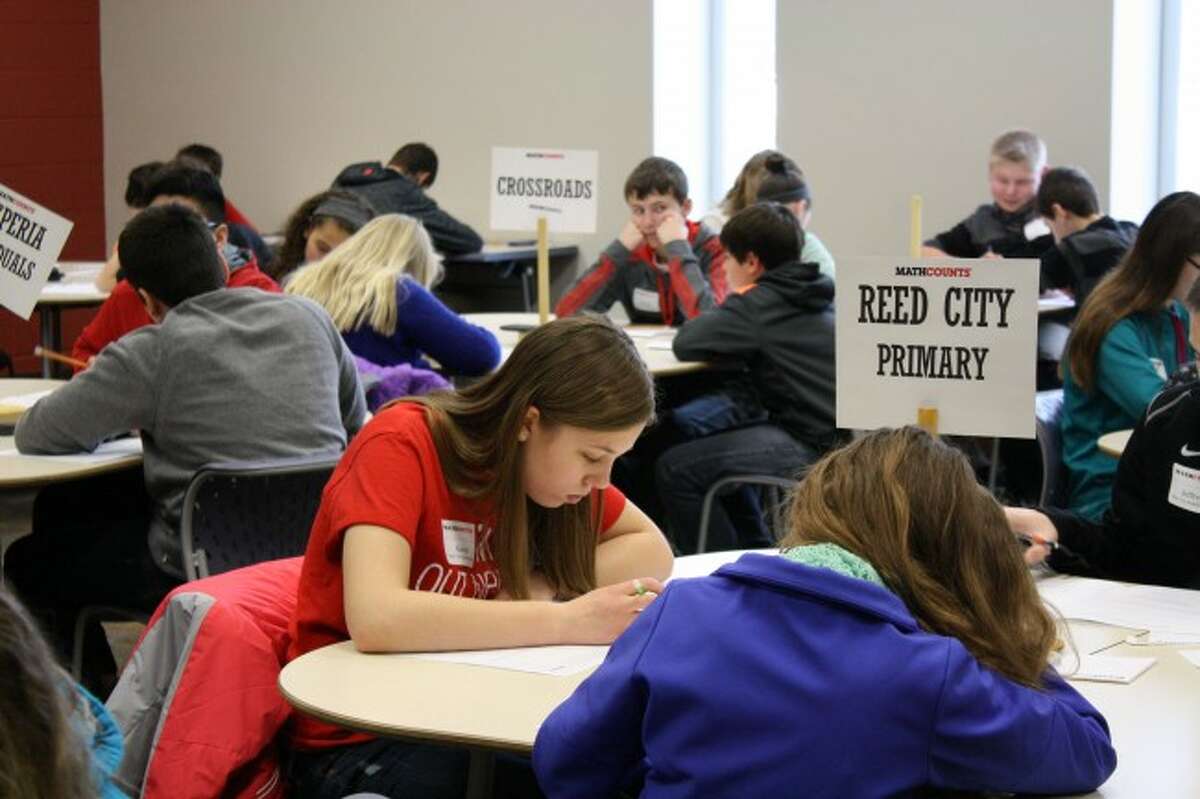 BIG RAPIDS — Question: If you put 118 sixth- through eighth-grade students in a room and give them a series of difficult math tests, how many of them will be stars? Answer: All 118 of them.
Students from nine schools participated in the annual Woodbridge N. Ferris MathCounts competition on Friday at Ferris State University in Big Rapids. More than 100 middle-schoolers spent the day bent over page after page of math problems in an effort to earn top honors for their school team and, perhaps, individual honors for themselves.
Teams are comprised of four students, but each school can enter up to 10. Some schools bring additional students to give them the experience of participating in the competition.
Big Rapids Middle School won first-place honors for team competition, followed by Crossroads Charter Academy in second place and St. Mary Catholic School in third. Ivi Wilhelm, of St. Peter's Lutheran School, earned first-place individual honors, followed by Jonah Weber of Big Rapids Middle School in second place and Nathan Allan of Morley Stanwood Middle School in third.
"It's really amazing," Wilhelm said holding her first-place trophy. "I never thought I would win — I didn't think I would do this well, ever."
Participation schools included Big Rapids, Crossroads, St. Peter's, Marion Middle School, McBain Middle School, Morley Stanwood, Hesperia Middle School, Reed City Middle School and St. Mary.
While it's fun to win the contest, coaches of several participating schools focus instead on the benefits for all the participants. Competitions such as MathCounts give students who excel in academic areas, such as math, a chance at the limelight in front of their peers, said Brad Massey, who coaches the St. Peter's team.
"They don't tend to get that public acclaim," he said. "MathCounts is a good way to acknowledge the gifts they've been given. This gives these kids the opportunity to shine."
Massey also believes the competition, and the weeks of preparation leading up to it, help foster a sense of collaboration among students.
"In math, there's a variety of different ways of coming to a problem to get the answer," Massey said. "The collaborative effort of working together on how to solve a problem is a good thing."
A shared sense of purpose gives the members of a MathCounts team an experience they may not have in other areas of their lives, said Tom Sibley, Morley Stanwood coach.
"The students enjoy getting together," he said. "They enjoy being part of a club. This is an outlet for some kids who enjoy math and aren't part of another club."
Lane Blatchford, coach of the Big Rapids team, also hopes his students enjoy the competition. This is the second year in a row Big Rapids has taken top honors, but it's about more than the trophy.
"I just look for the kids to have fun and work on problem-solving," Blatchford said. "This gives them a chance to do some problem solving outside the classroom. There are similar problems year after year, and just like with anything else, the more practice you do, the better you get."