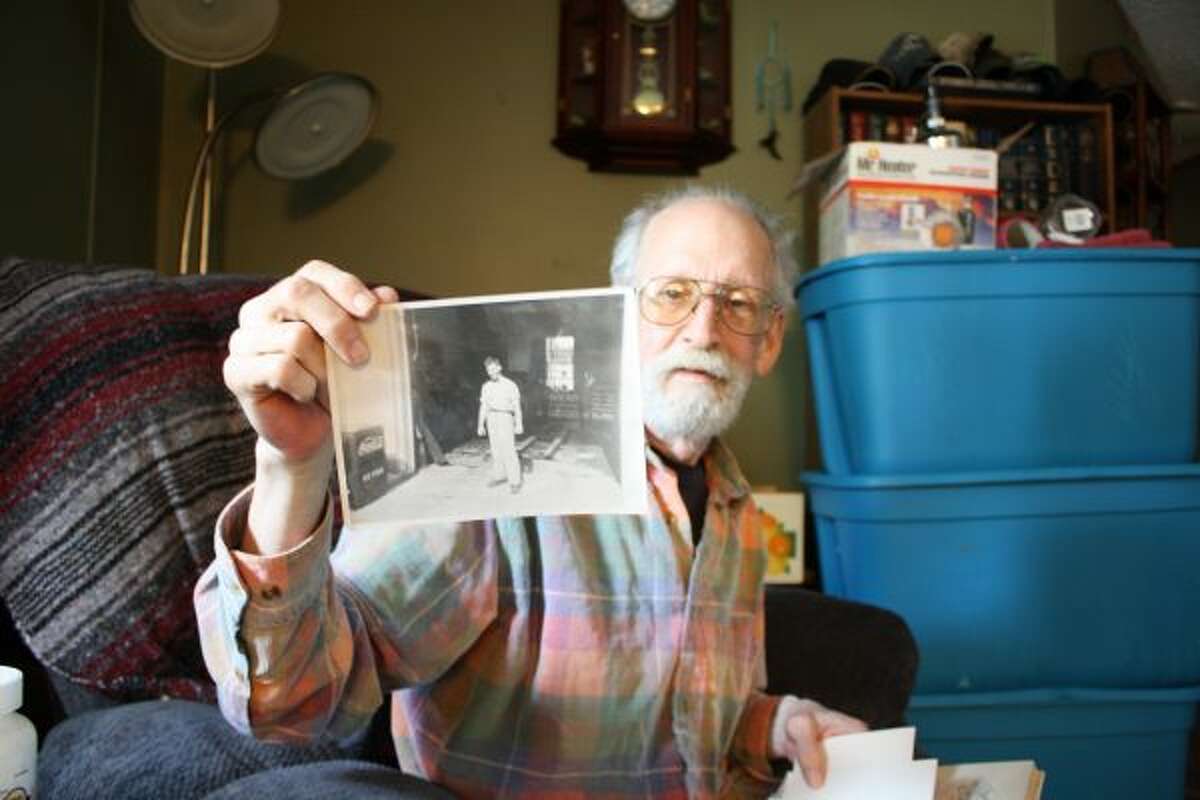 Click on photo to cycle through images.
REED CITY — When cleaning out a parent's home after their death, most people expect to find old photos and memorabilia. They just don't expect it to belong to someone in another country.
When Linda Phelps, of Walthamstow, a neighborhood in London, England, began the task of clearing her late father's home, she found a baby book, stuffed with cards and photos, belonging to Larry Conrad, a man she remembered from her childhood who had left England years earlier. Her parents had purchased the house from the Conrads when they returned to the United States.
"I know how precious these things are to people and wanted to see his belongings returned to him," Phelps wrote in an email. "In this book there are photos of his family from way back and milestones reached by Larry as a baby! I would hope that someone could do the same for me if I'd lost my precious belongings."
To find Conrad, whose family had owned the house next door to Phelps' family when she was growing up, she turned to the internet — and the local paper.
"I Googled Larry and realised that the details matched with what I remembered about him and that he'd moved to Michigan," Phelps wrote. "I wrote a couple of short notes to the addresses online but also decided to ask the local newspaper in that area if they could help me to trace him."
Meanwhile, in Reed City, Conrad, now in his 70s, had no idea the book was missing. He doesn't remember ever seeing it before Phelps sent it to him, but he certainly recognizes the people in the photos and the handwriting describing his youthful milestones.
After growing up in Reed City in the 1950s, Conrad began pursuing his dream of becoming a Federal Bureau of Investigation agent when he received a draft notice to serve in the military during the Vietnam War. After his military service, Conrad ended up training as an accountant. He and his wife, who was British, decided to move to England in the late 1970s with their son.
During the years they lived in England, in various neighborhoods within London, the Conrads purchased a home in Walthamstow, next door to the Cordell family, who had a daughter named Linda. While living in that house, Conrad's parents, brother and sister-in-law came for a visit.
"I think Mom must have brought it when she came over, probably to show my wife and my wife's family," Conrad said.
Somehow, the book got left behind when the Conrads decided to move back to Michigan.
"Larry and his family moved to the USA and we lost contact," Phelps wrote. "I guess that mum expected to hear from Larry once he realised he'd left the book behind, so she kept it where it couldn't be missed."
Tucked away in the Cordell family keepsakes, Conrad's memorabilia stayed in England until Phelps mailed it to him in May.
"This is incredible," he said, carefully turning the pages of the book on his lap. "Linda did a wonderful, beautiful thing to return this to my family — this is priceless to my family. I think this was tremendous."
As he turns the pages, he stops to exclaim over the handwriting — "My mother wrote this!" "Look, that's my grandmother's writing." — and examine the snapshots and cards stored in the book.
"This is my dad," he said, holding up a black-and-white photograph of a young man in work clothes. "You know where Vic's Supermarket is? In the '50s when I was little, there was a service station there and my dad worked there. This is my dad at work."
A few pages later, the pile of photos in his lap begins to grow.
"Oh look! This is my grandpa and me," he said, holding up a snapshot. "And this is my mom, and she's holding me."
While he may not remember the photos themselves, the images trigger a flood of memories.
"I get teary-eyed when I look at it," he said. "I remember all these things just like yesterday. This means everything — it's just priceless. I can pass this down to my sons. She did a very beautiful thing, something most people wouldn't do, returning my family property. She didn't have to do it."