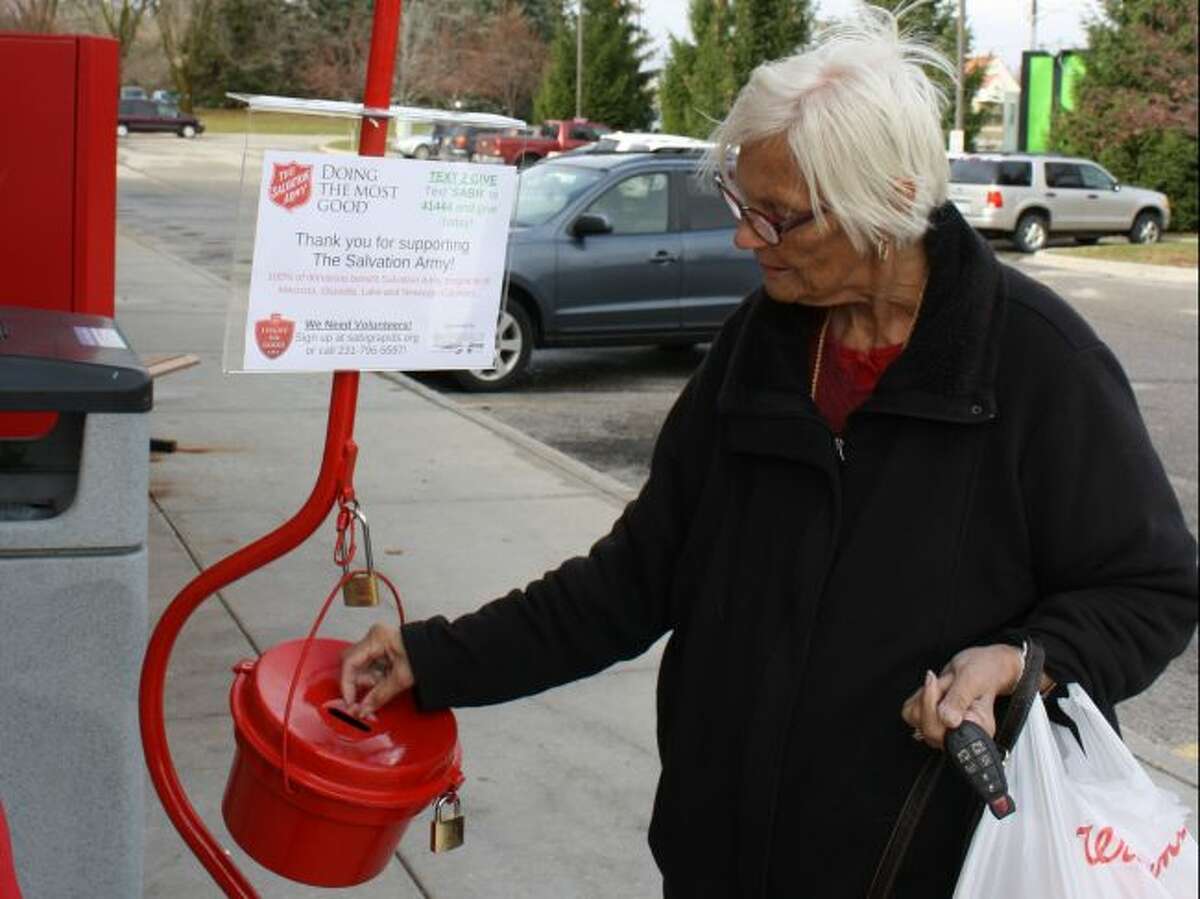 Donations still high enough to maintain current programming, leaders say
BIG RAPIDS — While the annual local Salvation Army Red Kettle Campaign fell short of its stated goal, area residents should know the donation drive brought in enough to maintain current programming, said Envoy Ed Hoskins.
The campaign's official goal was $120,000. Final tallies won't be complete until the end of January because "donations trickle in," Hoskins said, the early total shows the campaign bringing in a little more than $111,000. While that figure is about $9,000 short of the goal, it is slightly higher than last year's campaign total of $110,194.
"We're very pleased with the way the campaign ended because donations in the last week were about $40,000," Hoskins said.
Part of the reason the final week tally was so high was an effort by Salvation Army officials to organize matching funds for money donated at the kettles. Anonymous donors contributed enough to match every donation at every kettle for the week of Dec. 18, he said, which resulted in the highest kettle match in local Salvation Army history.
"We'd like to thank the generous people of the community for giving money at the kettles, and we'd like to thank the generous match money participants," Hoskins said, adding kettle matches took place throughout the campaign.
The 2017 kettle campaign had a total of 188 volunteer bell-ringers who gave 1,233 hours of time to the effort.
"We want to make sure to call out to the dozens of volunteers who make this a profitable endeavor ever year," he said. "Per capita, we have a much higher rate of volunteers than other communities, and we're very blessed by that."
Community support also provides the local Salvation Army office with partnership opportunities, such as with the Ferris State University music program's Symphonic Santa Sunday, FSU Athletics hosting the official campaign kick-off and the Big Rapids Downtown Business Association allowing the Salvation Army to participate with the Home for the Holidays event.
Additionally, roughly a dozen businesses throughout the service area allowed kettles to be placed at their locations and "countless" more had smaller kettles on their front counters, Hoskins added.
The total collected is enough to keep the current programming going, he said. Reaching the $120,000 mark would have allowed for "moderate growth" in programming, said Chris Vallette, Salvation Army development director.
In addition to longstanding efforts such as utility assistance for area residents, current offerings include an emphasis on after-school youth programming and a program for beginning music students, generally those of middle school age. The program launched with the first semester of school and will return for the second semester.