This is a carousel. Use Next and Previous buttons to navigate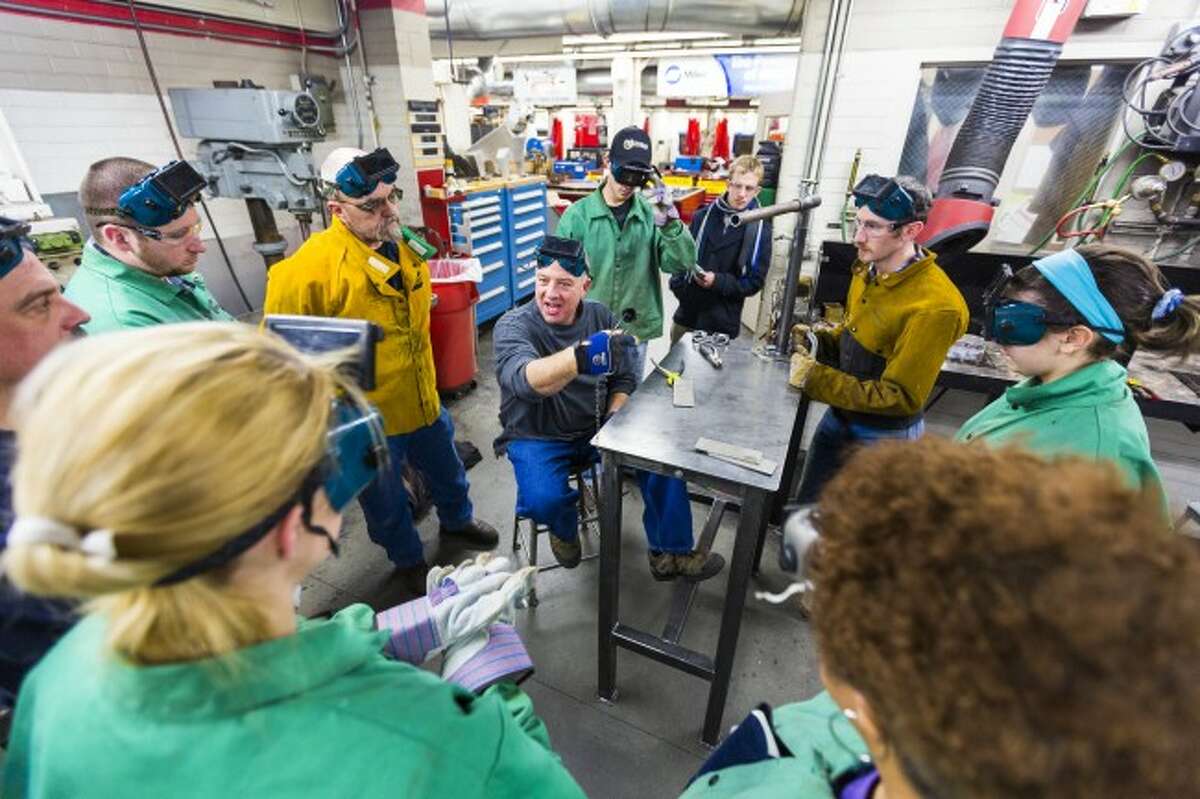 BIG RAPIDS — Whether you're looking for a favorite feature or up for a new adventure, Festival of the Arts 2016 has something to offer.
The opening reception will begin at 6 p.m. on Friday, Jan. 29, with wine and hors d'oeuvres. The keynote address will take place at 7 p.m. and the Ferris State University Honors Program Art Show winners will be announced at 8 p.m. Voting will take place during the reception, to be in the University Center Ballroom and Art Gallery, 805 Campus Drive, Big Rapids.
Music, painting, floral arranging, welding and acrobatics all have a part in this year's event. Balancing perennial favorites with new offerings is a tightrope walk for the Festival board, said member Courtney Piercey.
"The board has a big challenge in creating a balance," Piercey said. "The last couple of years I've been on the board, I feel we've worked really well to bring wide variety of events that are expected and events that are not expected to festival.
"At the beginning of the season, each board member comes up with large list of events they've researched or community members have told them they'd like to see. We put all the events on a large white board and vote — the events with the most votes are the ones are included in the Festival and then we try to plug them into days."
Piercey noted this year's festival of about 60 events was trimmed down from an initial list of 150 to 200 possibilities.
"It's a wonderful thing to have such an embarrassment of riches in this community," she said.
This year marks the ninth year for the Festival. Bruce Dilg, Festival board chair, was instrumental in recreating the annual event.
"Nine years ago, I had to go around town and say, 'We're trying to do something we're going to call the Festival of the Arts. This is what we need.' Today, people are just clamoring to participate," Dilg said.
Popular favorites such as the floral arranging workshop and welding workshop will return for the 2016 event. Some of the workshops, which have limited space, fill up quickly and often organizers run out of room for participants before they run out of interest from community members.
"Every year, we have to turn people away from those workshops," Dilg said.
Other favorite activities, such as the symphony performance, have a little different spin for this year.
"The Grand Rapids Symphony is always popular," Dilg said. "This year, there's a little twist — we're going to have the youth symphony up here with conductor John Varineau. I understand he's quite good.
"We have a couple of young people from our community playing with the youth symphony and we hope seeing them on stage will inspire others."
New this year, the Festival also will include a week-long mural painting, a community art project painting banners for downtown Big Rapids, a puppeteer and more.
"We're bringing in a professional comedian," Dilg said. "The first five people who sign up to work with him will have a couple of day workshops to learn how to do stand-up comedy and then they'll do a performance on Saturday, Jan. 27."
Mark Gifford, Festival board member, is coordinating the sign-ups for area residents to work with comedian Bill Gorgo. Open to only five individuals, the lucky participants will have two two-and-a-half hour coaching sessions before the night of the show. After the local talent is finished, Gorgo will perform his routine.
Three slots have been spoken for but two openings remain. To sign up, call Gifford "anytime" at (231) 250-8177.
"People have been calling ever since the books went out," Gifford said. "This has generated quite a bit of interest. This is a pushing the limit sort of event for the Festival of Arts. When people think of the arts, comedy doesn't jump to their mind.
"This may touch a nerve with someone who has always wanted to try a stand-up routine. This is a great opportunity to give it a shot," he continued. "I'm really looking forward to it. It should be a lot of fun."
Another new addition is a nod to the Super Bowl, which always takes place during the month of the Festival.
During the Bulldog Football Celebration and Pre-Super Bowl 50 Indoor Tailgate Party, attendees will be treated to free "football food" — wings and related goodies — and have a chance to win football-themed artwork, including an autographed photo of Jason Vander Laan, the FSU senior quarterback who won the Harlon Hill trophy twice in a row.
Connecting the year-round residential community to the student body at Ferris is one of the Festival's goals, and Dilg feels this year has been successful in that regard.
"We've probably got more Ferris students involved in the Festival this year than we've ever been able to do," he said. "That was the whole goal, to bring Ferris and the broader community together."
Festival booklets are available at various locations around town, and Festival information can be found on the website, brfota.org, and on the Festival Facebook, Twitter and Instagram feeds.
"I would love for everybody to come out to as many events as possible — come experience something new, something you've never tried before — cake decorating, for example," Piercey said. "Open the book, point to a page and go experience something new."