This is a carousel. Use Next and Previous buttons to navigate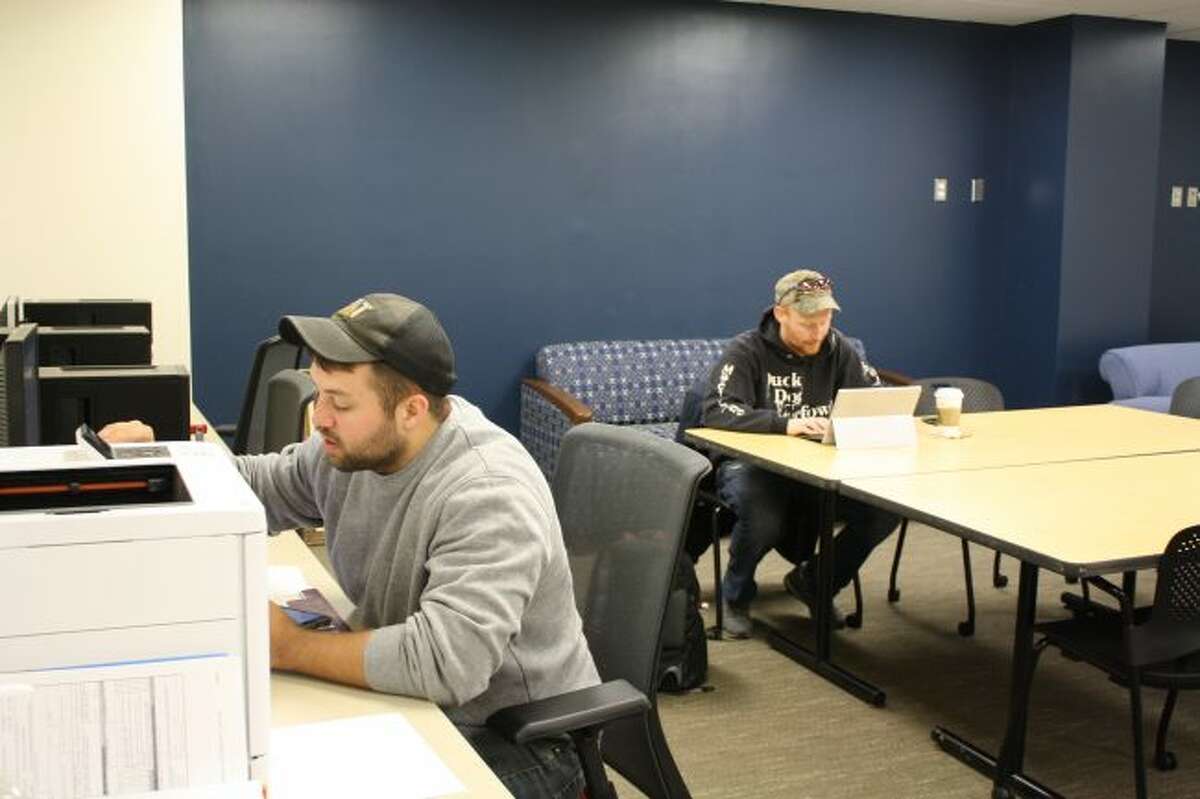 BIG RAPIDS — Walking across campus, backpacks slung over a shoulder and thinking about the next paper they have due, student veterans at Ferris State University may be indistinguishable from their fellow classmates.
In the veterans lounge at the University Center, however, they know they can find a group of their peers, of people who understand and can relate to the experiences they've had prior to attending classes.
The lounge is part of the services offered by the Veteran Resource Center, which provides assistance with paperwork relating to veterans' education and medical benefits, connections to resources, a mentoring program and camaraderie with others who've served in the military.
"It's beneficial in that it gives veterans options to do more outside the military," said Phil Blanchard, who had been a specialist in the U.S. Army and now is studying psychology at Ferris. "It helps make that transition from the military easier. And it's the camaraderie — I know I can find people in the lounge who know what I've been through — like-minded individuals with similar life experiences."
Most of what the office provides is assistance with certifying educational benefits and helping veterans with paperwork, but the office's services don't stop there, said Jacob Schrot, coordinator of veteran recruitment and outreach. Schrot was a lance corporal in the U.S. Marine Corps and currently is a staff sergeant in the Army National Guard.
"Mainly we make sure everyone's (Montgomery) G.I. Bill is good to go, but there's a lot of connecting these guys with local resources, national resources and state resources," Schrot said.
Some options the office can help with are specific to Ferris State students, as well, Schrot noted, such as a housing scholarship to help veterans pay their rent or mortgage, either on- or off-campus. The veterans office also is active with the Reserve Officers Training Corps at FSU and the local chapter of Student Veterans of America, for which Schrot serves as advisor.
Other services are more one-on-one. Schrot is working to raise awareness of and participation in Peer Advisors for Veteran Education, a peer-to-peer mentoring program developed at the University of Michigan which now is nationwide. Blanchard is one of the program mentors.
"We're trying to get more participation," he said. "I think that would be a good area to get the word out about the opportunities available."
A new service beginning for student veterans twice a month are campus visits by the United States Department of Veterans Affairs Northern Rural Expansion Team, which offers physical and mental health services to veterans in areas not serviced by a VA medical center. The team will be on campus from 8 a.m. to noon on the first and third Fridays of each month at the Birkham Health Center. To Schrot's knowledge, Ferris is the first university in the nation to partner with the program.
Overall, the services provided through the Veteran Resource Center are valuable to student veterans, Blanchard said.
"It gives you the ability to know what resources you have and getting rid of the stigma to use them," he said.