This is a carousel. Use Next and Previous buttons to navigate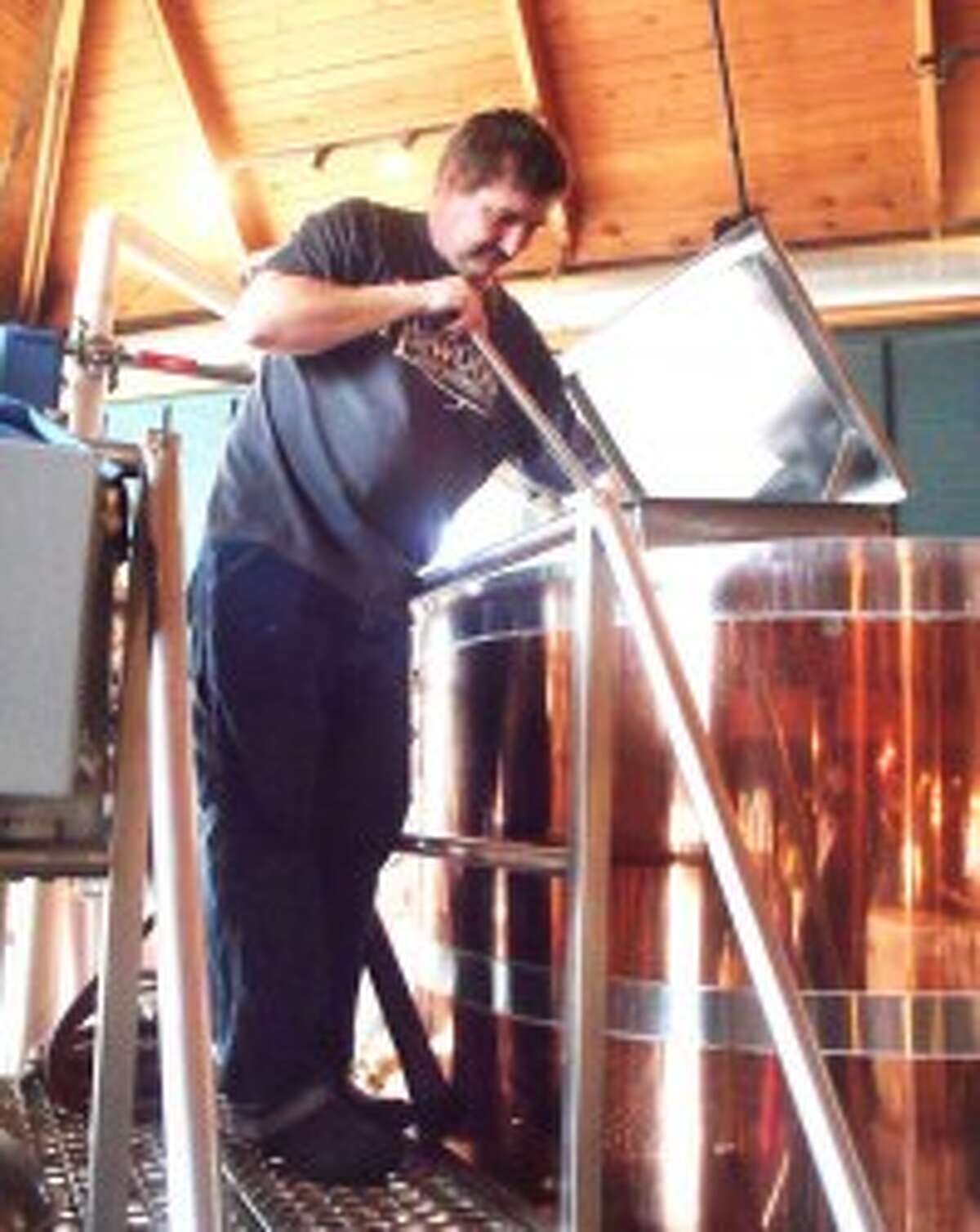 Evart high school grad logs successes in the competitive world of brewing

Back in 2006, when Evart High School graduate Steve "Konrad" Conner got word his job as a computer programmer in Flint had been outsourced to India, he thought it was going to be a lousy day. He knew it would be. One of the toughest things would be facing his wife and family. Great job one day. Nothing the next. "Try and find something in THIS market," he thought. On his way home he decided to visit his "local" - a brewpub he often stopped in to enjoy a beer after work. Redwood Lodge, home to the Redwood Brewing Company, is located just off M23 in Flint. Slipping into a seat at "the Lodge", Conner ordered up a pint, while trying to sort out the muddle in his head. The head brewer, an acquaintance of sorts, asked Conner why he was in earlier than usual. Conner told him he had been canned and was on his way home to break the news to his family. The brewer commiserated, walked away, but then turned back saying, "Hey. We need a part time assistant brewer - someone to do all the dirty work. You want a job?" Conner grabbed at the offer and drove home to tell his wife not only that he had lost his old position, but that in the morning he would be starting his new job. And he has never looked back. "It was the best day in my working life," he said. "I got kicked out of a job I was really good at, and booted into a job I have loved ever since. "I love getting up in the morning and coming to this job. I love the creativity involved. I love the challenges. "Sometimes I literally can't stop smiling." Conner grew up in the Evart area, the son of Sears residents Bob and Elsie Connor. He graduated from Evart High School in 1978. He enjoyed a successful career in the high tech world, but he really came into his own when he joined the Redwood Brewing Company team. "I had tried my hand at home brewing a bit," he said. "It was fun, but being secure in my job I never thought in my wildest dreams that I would be a brewer. "Never considered this path for a moment. "Honestly, the day I got fired was one of the luckiest days in my life." Conner hooked up with the Redwood crew in 2006 as assistant brewer. There was a lot of hauling, slogging, lifting, stirring, mixing, washing, and plenty of physical work involved. He also learned a lot. In May 2009 he became a fully fledged brewer and started making the beer, not just doing the work. Then, in March 2011, he was named the head brewer. He was the guy not only following the recipes, but also designing and creating the recipes. Conner was the chief cook and bottle filler. And he was loving every minute of it. It showed. Redwood has garnered its fair share of national honors for various brews. Conner has earned the brewery eight major awards since becoming brewer and head brewer. In October, the former Evarton was awarded the silver medal at the prestigious Great American Beer Festival for his Hazelnut Coffee Cream Stout. This beer is an English-style Sweet Stout brewed with a generous infusion of locally produced espresso coffee, and Michigan's own Biggby Hazelnut Coffee beans. The Great American Beer Fest is held every year in Denver, Colorado. It is the largest beer competition in the United States. The brew team has also won awards at the GABF in 2009 – a silver medal for their sweet stout; in 2008 – a gold medal for their European-style dunkle and a silver for the sweet stout. In 2008, Redwood was named the Great American Beer Festival Small Brewpub of the Year. Further afield Conner has pulled in honors from the World Beer Cup in 2010, winner the silver for his sweet cream stout. He also earned the 2008 bronze medal for his English mild ale, and was part of the crew in 2006 that earned a bronze for the brewery's cream stout. "It's really exciting to be honored with awards such as these from the competitions that really set our industry standard," he pointed out. "My assistant brewer, Dan Casey, and I really get pumped when we head off to a national or world competition ...and then win." What is more satisfying for the Evart expatriot, however, is seeing and even influencing the local shift in beer 'standards.' "More and more, people are learning to enjoy and appreciate a good product - a craft beer produced by people they know," he said. "Although the craft beer trade is only a small portion of the beer market, it is growing all the time because folks are understanding there is a huge difference between brewing with a personal touch, and pumping beer out of a factory. "Look, people understand our beer tastes better, is locally produced, and is created with better ingredients. "There has been a huge market shift in the past few years." Conner doesn't necessarily see himself as an artist ...but he is. In his own way, and in his own field, he is exceptionally, even stunningly creative. "That's one of the joys of working in a craft brewery," he said. "In a production brewery, you have no say as to what is actually happening in the process. Here, we can wonder what would happen if we added cinnamon to an IPA (India Pale Ale) and then try it out." Conner keeps the Redwood operation flowing with seven "standard" beers, as well as three or four 'seasonals' and the occasional specials - such as a recent experiment with chili pepper beer. It's a dream job. "I can't believe I stumbled into this career," Connor said with a smile. It may have been an initial stumble, but the former Evart resident has jumped in with both feet and made a HUGE name for himself in the Michigan brewing world, and is creating a national name as well. Conner is an Evart "kid" making good - and making good brew.