This is a carousel. Use Next and Previous buttons to navigate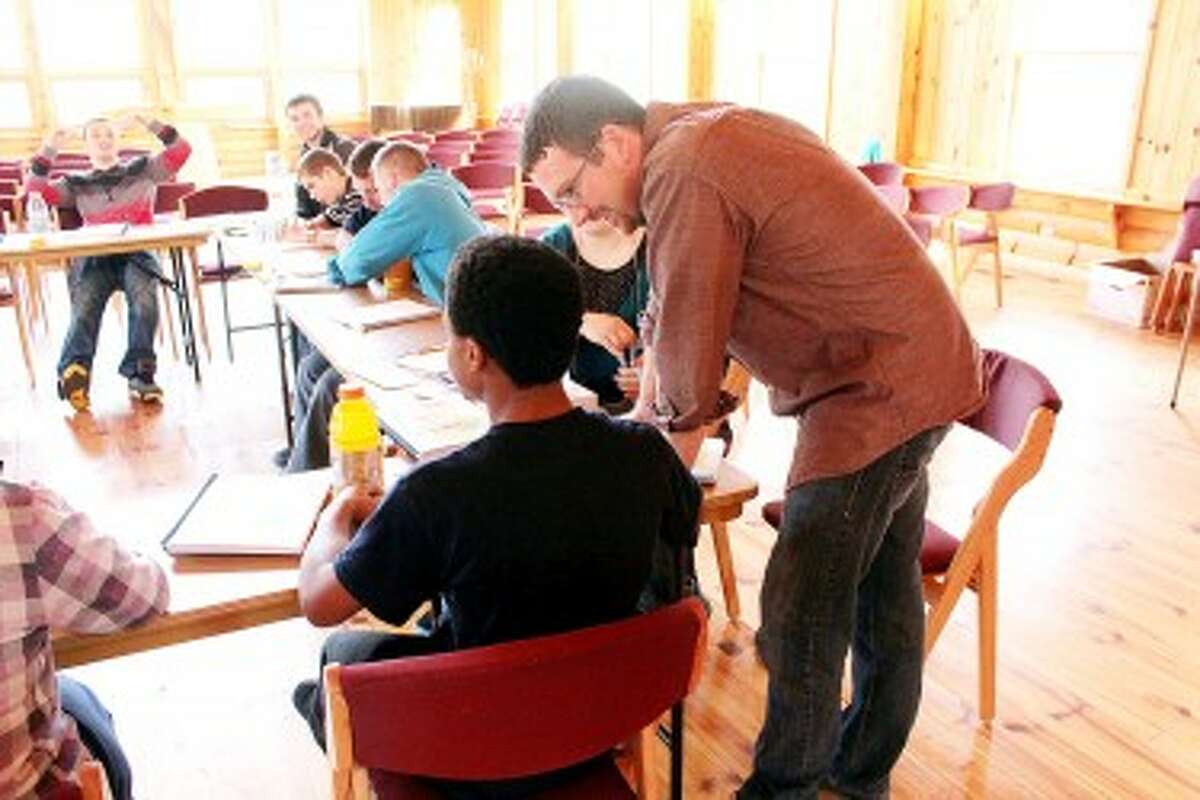 Eagle Village finds success with spirit-driven, family-centered treatment for troubled youth

HERSEY — Preparing to leave Eagle Village, where he has been since late August, a smile spread across Ryan's face as he saw pastor Jeremiah Ketchum, the organization's chaplain. Wearing his own jeans - a privilege only given to those at the "heart stage" - the soon-to-be high school junior beamed as he told the center's spiritual leader he had made it through the program and would be leaving to live with his mother and siblings. Placed at Eagle Village's residential treatment center by court order after repeated running from his family and uncontrolled partying led to a runaway charge, Ryan never expected his time at the facility to make an impact on his life. "I've been to places like this before, so I knew what it was, but I didn't expect the help that I got here," said the 16-year-old. Awaiting the final word so he could leave the center, the formerly troubled teen had new goals and a new vision for his life. "I'm getting my life back on track and prioritizing my future," Ryan said. "I'm getting back to where I need to be so I can go to college on a scholarship." Ryan is one of the thousands of youth who have been gone through residential care at Eagle Village in the center's 34-year history. The organization serves children all over the state of Michigan who have severe behavioral problems or who have been victims of abuse or neglect. The center has foster care and adoption services, along with short-term interventions and residential programs where youth typically stay for six to nine months. Most children have been in four to seven other residential placements before coming to Eagle Village. "By the time we get them, they are 14 to 17 and we have to fast-forward in helping them understand and unpack the trauma that has occurred, and refocus on what their hope is," said Eagle Village President and CEO Cathey Prudhomme. "That's what our traditional residential program is about. Giving them hope." Founded in 1968 by Prudhomme's parents, Kermit and Jean Hainley, Eagle Village began as a place for delinquent boys and has expanded to much more than that. Today, the center can host 84 youth - both male and female - and serves with a motto of child-centered, family-focused, spirit-driven, changing lives. When the organization became overwhelmed with challenges in leadership and programming, Prudhomme, who became the organization's president in 2010, was called in as a consultant. "Eagle Village was at that point needing to reinvent itself," Prudhomme said. "We were facing some very difficult challenges, a combination of change at the state level, change in program level and our own issues that all came together." Brought in as a third party to help bring about change, Prudhomme became the prime candidate to take the helm of the organization. "I felt very clearly this is what God was asking me to do," she said. The past two years have been spent restructuring programs and realigning the organization's goals to fit its mission. Through the organization has been reinvented under her leadership, Prudhomme said the mission of Eagle Village has not changed. "The mission of Eagle Village continues to stay the same. With God's help and love, we serve children and families," she said. "Our foundation is spiritual truth. The most important thing we can give our kids is a relationship with God, who loves and cares about them." Today, the residential program shelters troubled youth from destructive influences and houses them with others in a facility for those who have been abused and neglected, or a facility for delinquents. In a structured environment, the children complete chores, do their own laundry and attend school at the Ashmun School, in partnership with the Mecosta-Osceola Intermediate School District. The campus includes nature trails, a rock climbing wall, swimming pool, a school house and chapel on 700 acres of land in what resembles a summer camp. "Kids who have been bumped around are raw to the family system. Here, we take away the expectation of family and at the end of the day we give them a hope for family," Prudhomme said.