This is a carousel. Use Next and Previous buttons to navigate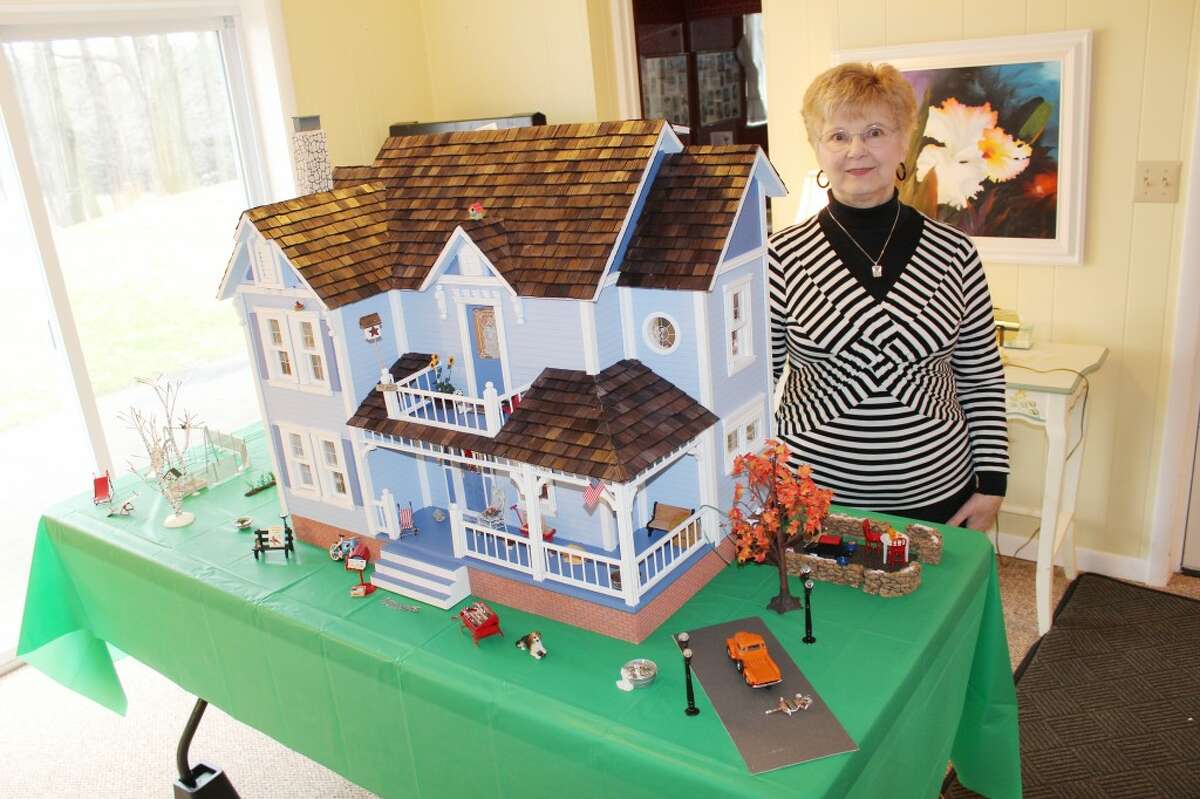 Dollhouse presented after four years of construction

REED CITY — Stacy Gilland has been fascinated with dollhouses since she was a young girl. Now as an adult, and after four years in the making, she has a fully constructed dollhouse from a kit she has had in her possession since graduating high school. "I remember working all summer and saving my money so I could go to Frankenmuth to a little store that sold dollhouse accessories," Gilland said. To see her dream become reality, she asked for the assistance of Reed City resident and friend Sandy Sikkila. "I know she's such a perfectionist, so I knew it would be beyond my expectations," Gilland said. Although the world of dollhouses was brand new to her at the time, Sikkila agreed. "I think I took it on because I haven't tried anything like that before. It was a challenge," said Sikkila. While she mostly paints in oils and acrylics, Sikkila is a crafter by heart and has a fully organized studio at her home where she can relax and focus on her creations. It is the same place where the dollhouse took shape piece by piece. The structure stands 31 inches high, 34 inches wide and 20 inches in depth. About 1,000 shingles, which Sikkila dyed for five days, line the roof. Wallpaper and flooring adorns each of the seven rooms — a process which sometimes took hours to complete. The house is extremely detailed with shades of blue and white accents, and even the chimney was defined by a stonework stencil. Gilland also wanted to have working electricity for the table and hanging lamps. Because Sikkila had no experience wiring electricity, much of her time was spent learning the process, placing the tape wire correctly, troubleshooting issues and redoing sections of the rooms to run the wires in the most efficient location. She said it was the hardest part of the entire project. "It made me nervous to even think about it. A lot of three years has been learning how to wire electric," Sikkila added. However, the plan was unplugged when Gilland expressed her desire to allow her children to play with the house. Sikkila was concerned that the lights would cease to work throughout the entire house and having electricity would be unsafe for young children. "The miniature company from which I ordered all the wiring supplies and fixtures has a statement on all of its invoices saying that their items are not intended for children under the age of 14," Sikkila said. The house was finished, detailed and adorned with the furniture Gilland provided. Now that it is complete, Sikkila can add a dollhouse to her list of accomplishments. "It feels wonderful now that it's done. I'm very proud of how it's finished," she said. Inspired by her work on the dollhouse, which she considered a learning experience, Sikkila plans to create a miniature of her grandmother's home. Gilland said she will watch her children play with the house through the years and is hopeful it will become an heirloom. "I would like for it to be passed down. I'll let my children play with it and I would hope it would be passed down through the family," she added.