This is a carousel. Use Next and Previous buttons to navigate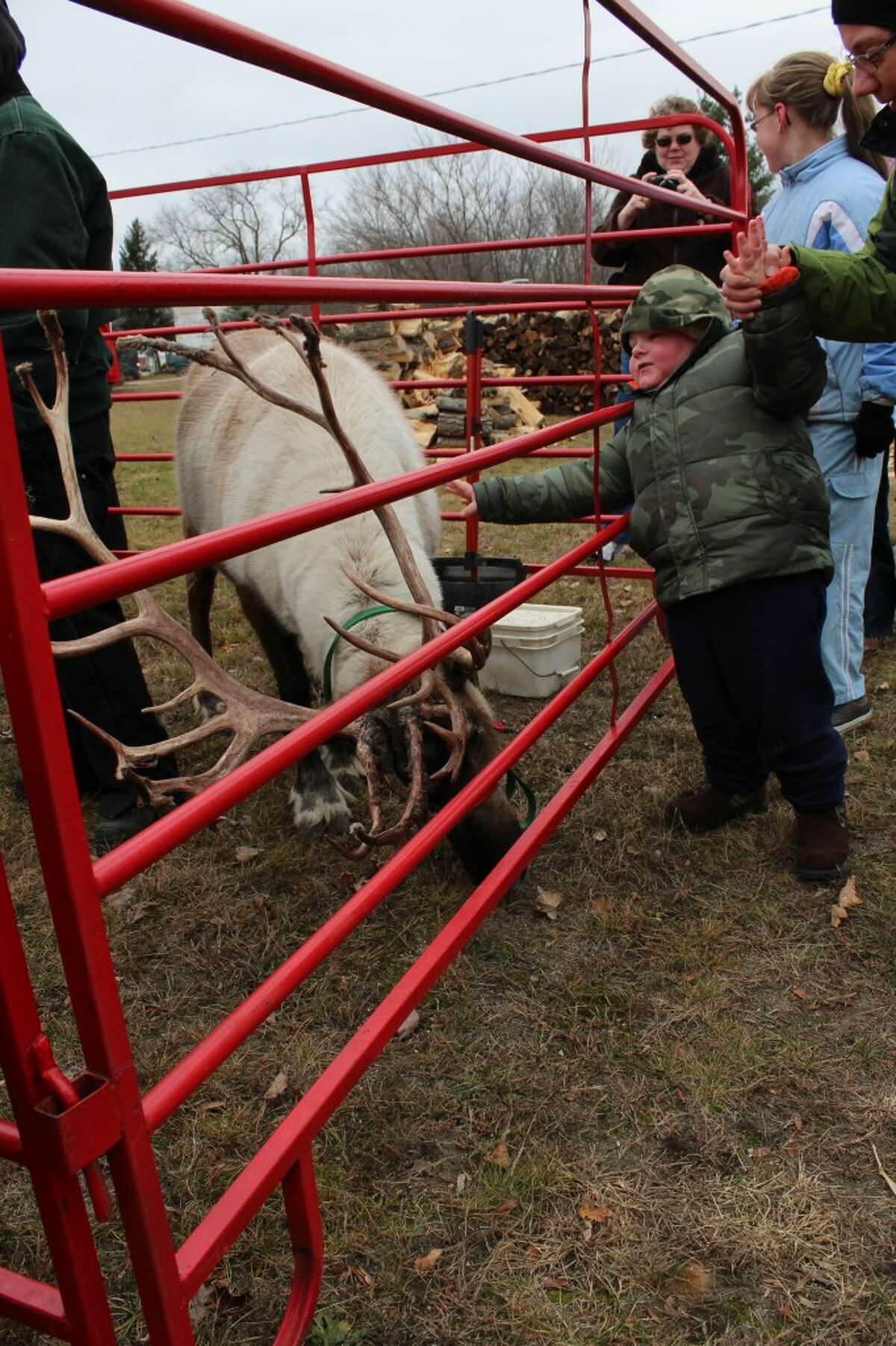 Annual Evergreen Festival ushers in Christmas season in Reed City

REED CITY — Grasping his mother's gloved hand, 4-year-old Ryan Wildey stretched his arm between the bars of a cage housing live reindeer to pet one of Santa's furry friends. When the reindeer moved out of his reach, Ryan wimpered in disappointment. "I wanna touch it!" Ryan cried. He and his family attend the Evergreen Festival in Reed City every year to watch the parade, join in the holiday celebration and make sure Ryan gets to pet a reindeer. "He's a cowboy at heart," said Ryan's mom, Alicia Maddow. "He loves them." The reindeer, which were from Rooftop Landing Reindeer in Clare, joined floats from local churches, a boy scout troop, emergency services, Santa and Mrs. Claus and elves as part of the parade for the Evergreen Festival. The annual event kicked off on Friday with a craft show at Reed City High School and continued Saturday with the parade, pictures with Santa, gingerbread cookie decorating and reindeer petting. Vendor Michelle Place, of Brighton, said the festival was the perfect place to make her debut into the crafting business. Offering purses and kimono sleeve jackets she began making just two weeks before the festival, Place was happy she had sold seven jackets by Saturday afternoon. "It was sort of an experiment. I was inspired by the ones I saw in the store and thought maybe I could make those," she said. "I think I may be onto something here." For shoppers Barb Hill, Pat Lucas and Shirley Lyons, all of Baldwin, the Evergreen Festival is an annual tradition. "I like to get different ideas from the craft show and look for stocking stuffers," Lucas said. "It's neat to see what people make." Lyons, who purchased homemade peanut butter dog cookies for her chihauha, said she was especially interested in dish cloths with characters on them. "There is a lady who knitted dish rags with patterns on top," she said. "I was really impressed." After leaving the craft show with small purcases and inspiration to make crafts of their own, the friends visited the INC Spot in downtown Reed City, ate at Nestle Inn for lunch and watched the Evergreen Festival parade march down Upton Avenue, as they do every year. "It's a fun day," Lucas said.