This is a carousel. Use Next and Previous buttons to navigate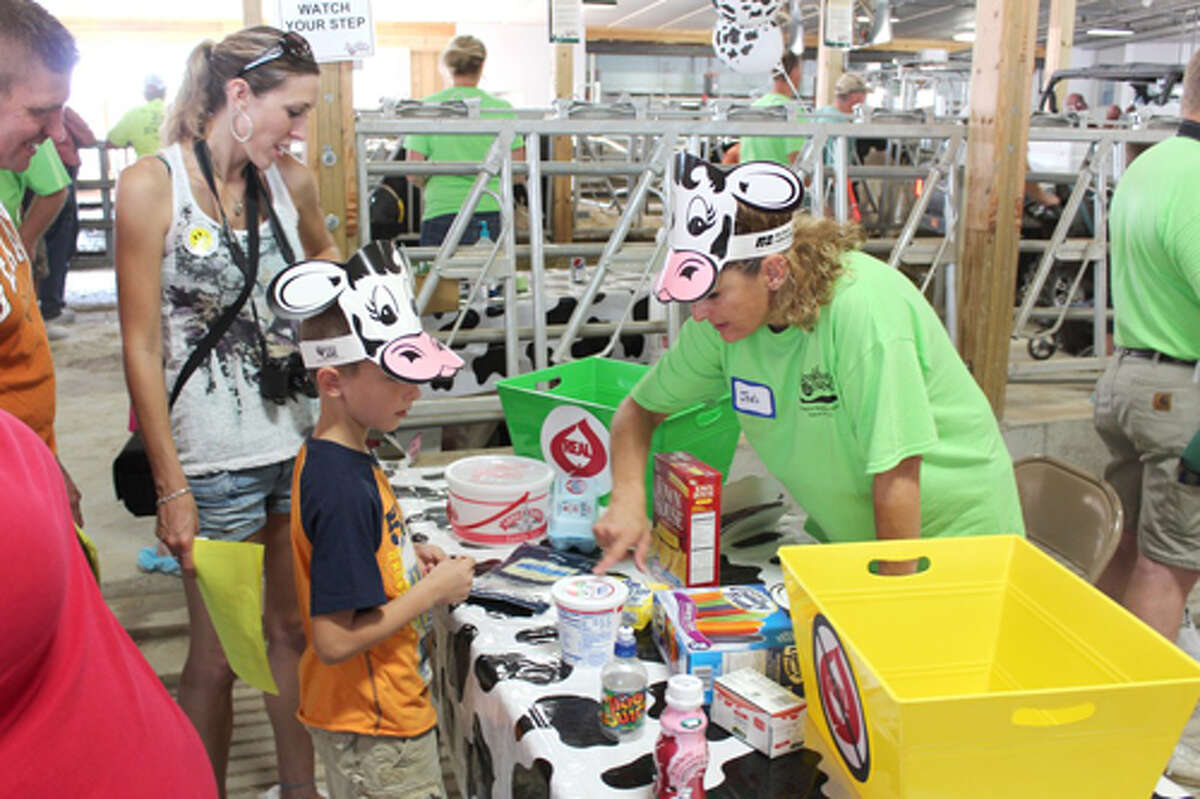 More than 3,000 visit LeRoy for breakfast, agricultural education

LEROY — When Kaiden Sikkema was asked if he thought a package of margarine was made from real milk or milk substitute, he adjusted his cardboard cow hat and glanced at the package. A moment later, he placed the package in a tub marked "not real." "It didn't say 'real' on it," Kaiden said. The 7-year old from Cadillac learned that containers of genuine milk-made products such as butter and cottage cheese are marked with a small "real" symbol, whereas other products, such as margarine, are not. Kaiden and his family were among more than 3,000 people who came to Breakfast on the Farm Saturday morning at Gingrich Meadows in LeRoy. The event was sponsored by Michigan State University extension as a way to educate the public about how food is made, by "serving up breakfast and a whole lot of fun." "The goal of Breakfast on the Farm is to get people in touch with agriculture because nowadays there are so few people who actually live on a farm," said Mike Lee, Breakfast on the Farm committee member. "We're trying to make this an educational event to showcase how our products are made. People can come on the farm and have a good experience, but also come away with some knowledge about agriculture that maybe they didn't have before." After parking in the field and taking a hay ride to the farm, visitors were served a free breakfast of pancakes, sausage, watermelon, yogurt and milk. Each guest also was offered an ice cream sandwich on their way out. With full stomachs, event-goers were invited to see the origins of their food. Farm visitors could view a 3-D display of cow anatomy, place their finger in a milking claw to feel what a cow goes through during milking, jump in a pile of dry corn or hear from an expert on cow manure recycling. Unique to Gingrich Meadows Dairy, visitors could view robotic milkers. Cows decide when they are ready to be milked and enter a gate where they are hooked up to the machine and milked with no human contact. "It's important that people understand how modern agriculture produces food today and they understand what it takes to have this scale of operation," said Jerry Lindquist, MSU agricultural extension educator for Osceola County. "That is one of the reasons why we do this." Along with agricultural lessons, guests also were given opportunities for fun. From playing with calves to finding the answers to an agricultural quiz on signs throughout the farm, the event was packed with activities for families to learn together. "This was very well organized, and they did a great job hitting all aspects of the farm," said Holly Helsel, of McBain. Helsel brought her daughters, Isabel, 7, and Idaline, 6, to the event after being invited by a member of the committee. The family attended Breakfast on the Farm last year in McBain and wanted to come to the event for a second year. Isabel and Idaline said their favorite part of Breakfast on the Farm was playing with the cows. They also enjoyed finding the answers to questions on the agricultural quiz. "In one question, we had to find out how many pounds of food cows eat per week," Holly said. Though they guessed a cow would eat 300 pounds of food each week, the family learned a cow actually eats only 100 pounds after finding the answer on a sign at the farm. Breakfast on the Farm first began in 2009 at a dairy farm in St. Johns. The success of the event led to the formation of three Breakfast on the Farms in 2010, eight in 2011 and eight again this year. The event at Gingrich Meadows Dairy marked the first time the breakfast has been held in Osceola County, and the most amount of people the farm has ever hosted on its property. "It's pretty exciting," said Amy Martin, co-owner of Gingrich Meadows. "The committee has put so much work into this for nine months. It's nice to see this many people here." A 15-member Breakfast on the Farm Committee had been planning the event since Gingrich Meadows was selected to host the event in the fall. On Saturday, another 250 volunteers assisted with the event, including the Osceola County Sheriff's Mounted Posse, which helped with parking. The event was sponsored by a multitude of community supporters, which made it possible to offer the breakfast, education and fun free of charge. Other events this summer have been held in Kalamazoo, Jackson, Sanilac, Delta, Kent and Isabella counties. An event in Allegan County is scheduled for October. Farms must apply to be a host for Breakfast on the Farm and are then selected by event administrators. As event sites are changed each year, Breakfast on the Farm will not be held at Gingrich Meadows again next year.