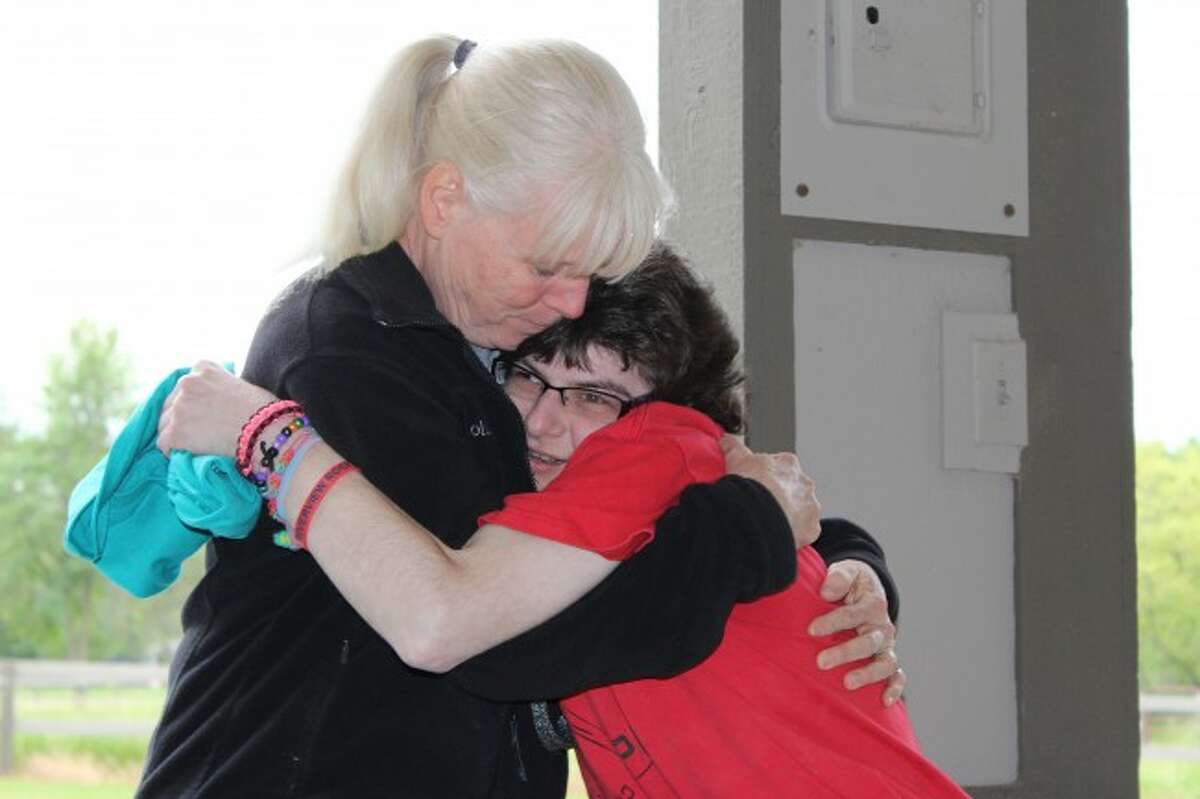 MECOSTA COUNTY — On the verge of tears, Jackie Samuels breathes in deep and exhales slowly attempting to control her emotions while she takes the time to recognize each individual who participated in this year's 4-H Proud Equestrian Program at Cran Hill Ranch on June 10.
Tuesday ended another year of the 4-H Proud Equestrian Program (PEP) for special need individuals in Mecosta and Osceola counties.
"It is always tough to say goodbye to the riders for another year," Samuels said. "The riders do more for me, than what I do for them in the program."
PEP was started in 1974, by Michigan State University Extension to assist those with disabilities to increase self-esteem and self-confidence while improving balance, coordination, muscle tone and social growth.
Samuels has been an instructor with the program since 2004. Each year when the program ends for the season riders are treated to a pizza party and hay ride.
"I always get so emotional at this moment," Samuels said. "It is tough, because we know the riders look forward to coming here each week. They know it is ending because usually we would be on horses right now."
Eight young people and adults with physical, developmental, emotional or multiple disabilities participated in the program this year, said Jacob Stieg, 4-H coordinator for Osceola County.
"We had a great year," Stieg said. "Each week you could see the excitement in our riders. It's wonderful. The benefits are amazing."
PEP volunteer Phil Noder, of Reed City said PEP is a good program and the riders enjoy it.
"You can see each week that they really like it and look forward to riding," Noder said.
As an instructor, Samuels uses the six-week program to teach horsemanship and stable management to the riders.
"Therapeutic riding stimulates verbal capacity, and help with emotional and social skills," Samuels said. "Riding horses touches so many areas of therapy for each of them."
The horses also seem to relax or improve the riders' emotional state during the day, Samuels said.
"You can tell when a rider is anxious or having a bad day, but get them on a horse and that all goes away," Samuels said. "Whatever was going on with them earlier appears to be gone and a smile comes across their face. The rider is in the moment. It's all about that horse. You see a bond between the horse and rider, which only a horse rider can understand."
The riders also get a sense of control when horseback riding.
"When a person can't communicate verbally, but can control a 1,000-pound animal, that gives them a sense of empowerment," Samuels said. "To see the look on someone's face, who's spends their life in a wheelchair, sitting atop a horse is just wonderful."
Volunteers and those interested in the program can contact Jacob Stieg at (231) 832-6139 or Amy Miller at (231) 592-0792.