This is a carousel. Use Next and Previous buttons to navigate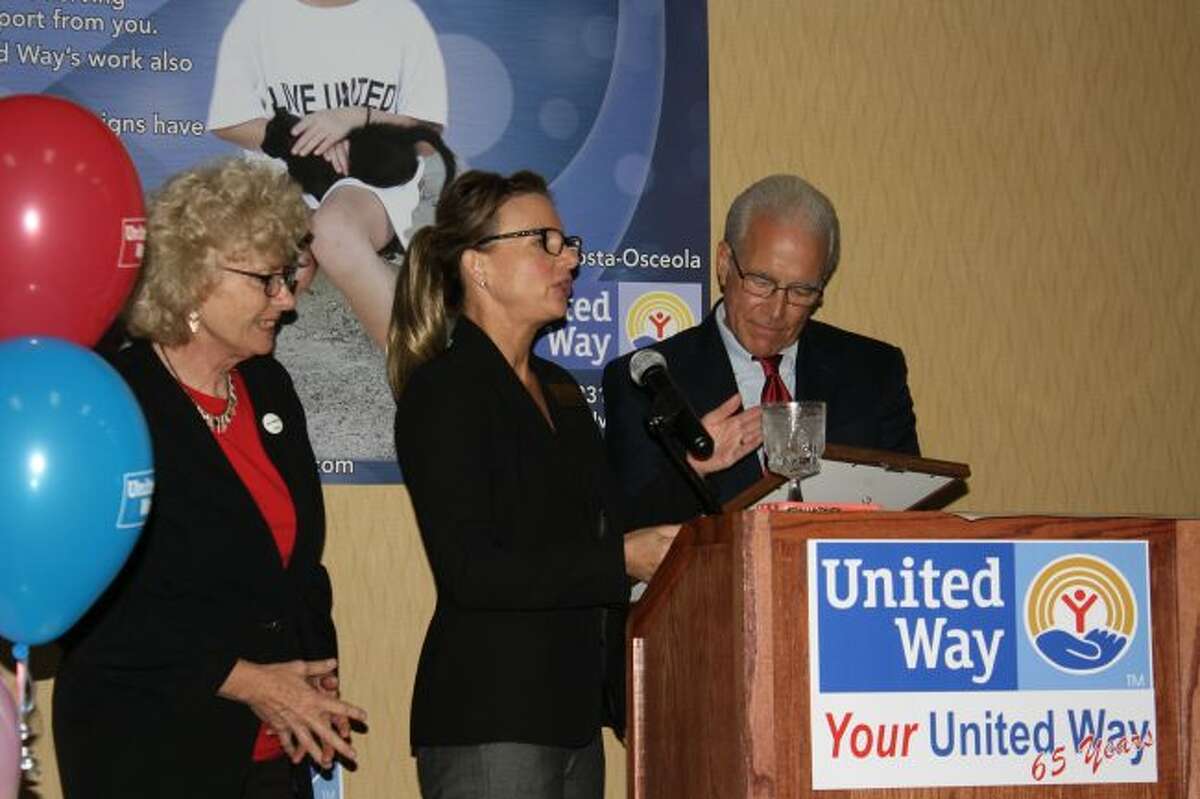 BIG RAPIDS — The Mecosta-Osceola United Way kicked off its 2017 campaign with a look backward before diving forward to this year's goal: $450,000.
Representatives of United Way-supported agencies and area businesses which run fundraising campaigns gathered Friday morning at the Holiday Inn in Big Rapids for the annual kick-off breakfast.
This year marks the 65th anniversary for the organization locally, which began in 1952 as the "Community Chest." State Rep. Michelle Hoitenga, R-Manton, attended the event to present a proclamation honoring the local United Way.
"This is the best part of my job, seeing great organizations get recognition, especially for longevity in doing good things," she said.
Nearly as soon as the applause had died down, attendees turned their focus to the upcoming job at hand.
"Last year, United Way worldwide raised $4.72 billion," said Betty Seelye, executive director of the Mecosta-Osceola United Way.
In 2016, the local United Way serving Mecosta and Osceola residents collected $510,000.
"This year's goal is $450,000. That's what the board set," she continued. "We hope to go over — we're going to go over, don't worry."
The goal will be reached in part with the proceeds of several upcoming events, including the celebrity auction on Oct. 26, the Skeleton Skurry 5K on Oct. 28 and the Great Cake Auction on Nov. 20 and 21.
Before Pat Currie provided the keynote address, Seelye presented awards including the Agency Provider Award, to Diane Long and Project Starburst; the Live United Award, to Larry Emig; and Friends of the United Way Awards — a surprise addition — to Tina Wilson and Joe Wekenman.
"Living united means giving your resources to Mecosta and Osceola counties, volunteering your time and giving, advocating and volunteering for the well-being of the community," Seelye said while presenting Emig's award.
Emig, an Osceola County commissioner, also is a U.S. Navy veteran and prolific volunteer. Upon receiving his plaque, he congratulated those present, noting their efforts are what make United Way possible.
"You do an excellent job," he said. "You're all part of the team."
Following the awards, Currie gave the keynote address. A local businessman, he emphasized the need to shop local to enable businesses and give local, as well as sharing stories of his youth. One story was about the moment when he decided he would rather focus on remembering the kids who struggle and helping others than chasing the accumulation of money.
As a young man, he worked for a millionaire in the Detroit area. On a plane to Pennsylvania as part of his job, Currie asked his employer how he, too, could make that kind of money. When the man answered prioritizing money above all else, Currie decided to take another path in life.
"I'm blessed," he said. "But a lot of people have not been blessed. I see underprivileged kids every day in my gas station.
"I know I'm preaching to the choir by saying this, but the United Way touches my heart. It touches more people than you would ever believe. You guys don't see the people coming in my store, who so appreciate a smile and conversation."