This is a carousel. Use Next and Previous buttons to navigate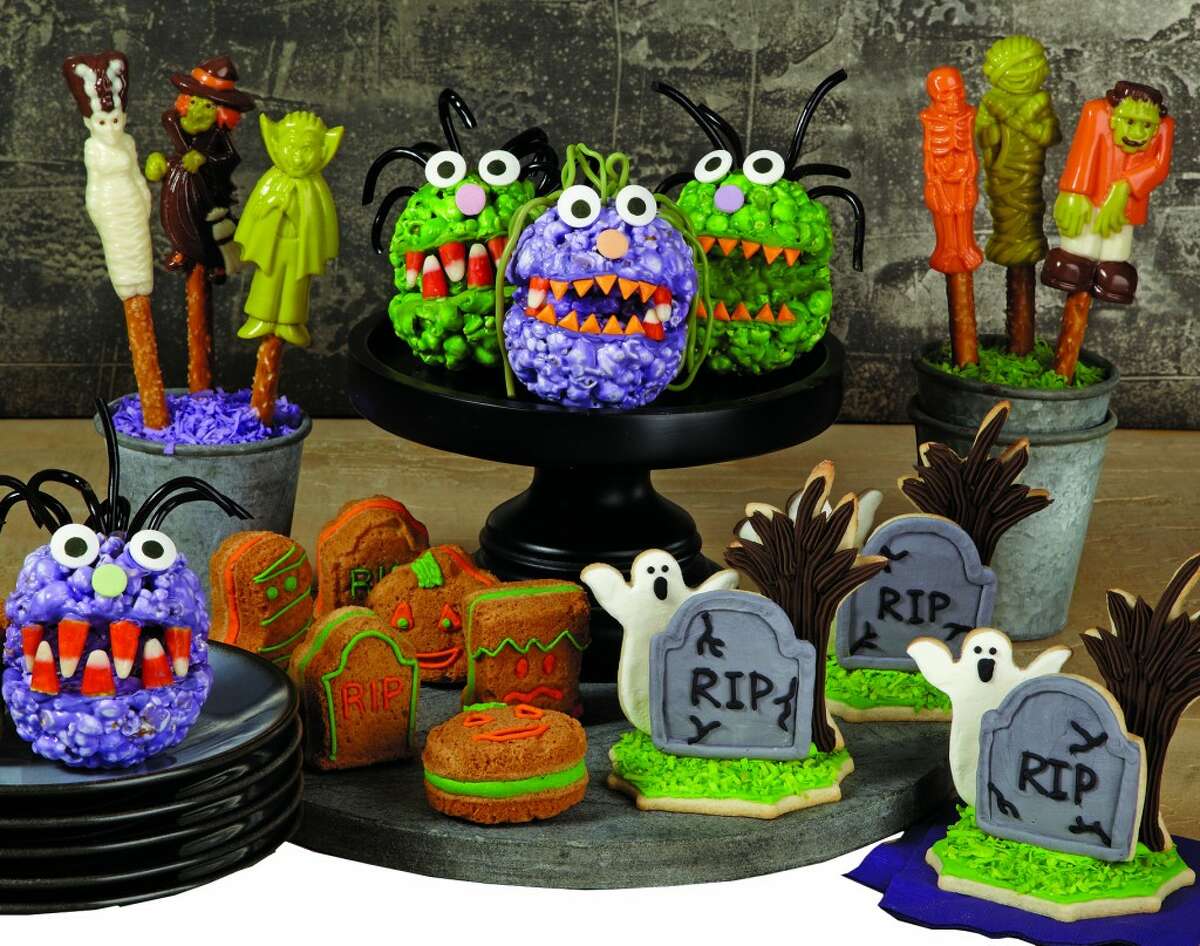 Be the ghostess with the mostess this Halloween, and throw a wickedly wonderful celebration. These recipes will help show all the tricks and offer plenty of treats for hosting a bone-chilling blast that will have friends and family shrieking with delight. Start by scaring up some fun with an array of graveyard goodies. Tombstone and monster-shaped sandwich cookies paired with ghostly grave-yard cookies set an eerie scene. There's no bones about it, a spook-tacular skeleton cake will make for a boo-tiful Halloween centerpiece. Using a skeleton casket pan makes this impressive dessert — filled with fall flavors like cinnamon and apples — easy to achieve. Simply decorate with icing and watch as your skeleton comes back from the grave. For added fright, surround the coffin with Spooky Pop Cupcakes — swirled with brightly-colored icing and things that go bump in the night. Just be sure to pair sweets with a be"witch"ing beverage and you'll be caught in a web of friends all evening long.
Popcorn ball monsters

1 jar (about 7 ounces) marshmallow crème Violet and Orange Icing colors 4 cups popped popcorn, divided White Candy Melts Candy, melted following package instructions Large Candy Eyeballs Animal and People Faces Sprinkle Sets, candy corn, Jumbo Confetti Sprinkles Green and Black Candy Strings Spray Dimensions Multi-Cavity Mini Pump-kin Pan cavities with vegetable pan spray. In large microwave-safe bowl, microwave marshmallow crème 1 minute at 50 percent power. Remove bowl from microwave and divide marsh-mallow crème in half; stir icing color into each half (tint slightly darker than how you want your finished treat to look). Stir two cups popped popcorn into each marshmallow mixture mixing until evenly coated. Press popcorn treat mixture in bottom cavities only of pumpkin pan to 1 1/2 in. deep; reserve some unmolded popcorn. Let set; unmold. Attach 2 popcorn ball halves together on one edge, using unmolded popcorn to prop opposite edge open. Using melted candy, attach Candy Eyeballs and sprinkles and candy corn teeth, and Jumbo Confetti nose. Attach candy strings for hair.